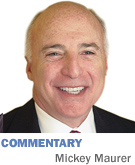 Like most veterans of the entrepreneurial wars, I have made mistakes. That propensity is magnified by the higher-risk profile I have chosen—startups and turnarounds, both treacherous undertakings.
To create a disciplined investment philosophy, I evolved from my experience, "The Ten Essential Principles of Entrepreneurship that You Didn't Learn in School"—at least I didn't learn them in school. Over the course of 10 columns, I will feature each of these essential principles. This is the fifth installment.
Mind your manners
(What would your mother say?)
In business school, students are taught decision-making based upon data. We probably all learned to prepare, analyze and evaluate financial projections and make business decisions, but never was I invited to attend a single lecture on how an entrepreneur was supposed to behave. Perhaps my professors consciously ceded this responsibility to Sunday school and the home environment. If so, that was a mistake. Too many of our contemporaries did not get the message.
Working with others is an important aspect of business life. Not only will civil behavior promote business relationships and increase opportunity for success, it will enhance your reputation, your most important asset.
I read an obituary in The New York Times about a lawyer who practiced for 50 years in corporate litigation, a field often given to table pounding and belligerent intimidation. He had a great career winning lots of important cases but that was not his legacy. The obituary quoted peers who praised his kindness and cited him for treating his partners, clients and adversaries with dignity.
How would you want someone to describe your life and your career? Would you want it said that you were financially successful? Ethical? Creative? All of that? But what will distinguish you when it's time for your peers to sum it all up? It will not be the deals you made or the fortune you amassed. It will not be what you did for a living so much as how you did it that will set you apart.
There is an adjunct to the "mind your manners" principle that I call the Jackson corollary. When I worked for Gene Glick as a feasibility analyst, it was my duty to sift through the opportunities that came across Glick's desk and suggest to him which ones presented a reasonable chance for profit and which he should respectfully decline.
In the course of an investigation of one of these investments, Glick asked me to call a man named Jackson who, with other members of his family, operated real estate ventures on the south side of town. I called Jackson to obtain the necessary information to complete my analysis and waited for the return call. It never came. Under pressure from Glick to complete the assignment, I called Jackson numerous times, never receiving the courtesy of a return call. It was embarrassing and frustrating because I was not able to complete my assignment without Jackson's input. I vowed to always return my calls.
When I presided at the Indiana Economic Development Corp. a few years ago, I reminded our managers that government employees are often lousy communicators, perhaps because they are in a relatively non-competitive environment and do not feel it necessary to be courteous to customers. I insisted that under our watch communication was important and that I expected them to return all their calls as early as the same day if at all possible—the Jackson corollary.
We all know bad-mannered, financially successful entrepreneurs but I include "mind your manners" as one of my essential principles of entrepreneurship that you never learned in school because my definition of a successful entrepreneur is not just someone who makes money. It is someone who does it with civility and class.
Mind your manners. Did you learn that in school?•
__________
Maurer is a shareholder in IBJ Corp., which owns Indianapolis Business Journal. His column appears every other week. To comment on this column, send e-mail to mmaurer@ibj.com.
Please enable JavaScript to view this content.