The expansion of the Indiana Convention Center is expected to serve as a key asset in the city's quest to attract more large meetings downtown.

But meeting planners, while doubtful they'll overlook the importance of exhibit space, increasingly are adding another item to their checklist when considering a convention host—the "greenness" of a city.

The green movement is gaining steam within the convention industry, evidenced by organizations that are beginning to mention a city's sustainability in their selection announcements.

The United Methodist Church General Conference, for instance, earlier this year touted Portland's commitment to green energy sources when choosing the Oregon Convention Center for its 2016 General Conference.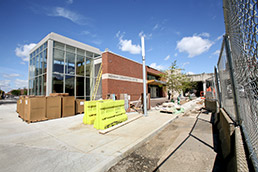 The connector between the Indiana Convention Center and Lucas Oil Stadium is an example of a downtown walkway offered as proof of green credentials. (IBJ Photo/ Perry Reichanadter)
Debbie Locklear, president of Indianapolis-based Meeting Services Unlimited Inc., which books conventions across the country, became aware of the trend about two years ago.

"It is most definitely a major consideration for many organizations," she said. "It's something that now is becoming a pretty good question on requests for proposals."

The Indianapolis Convention & Visitors Association, charged with attracting meetings to the city, is hyping the 254,000-square-foot expansion to the convention center slated to open in January. Yet it typically dwells on three key points when addressing the city's environmental stewardship.

Foremost on the list is the city's compact downtown, which encourages visitors to walk instead of drive to their destinations. Once the J.W. Marriott hotel complex is finished in January, roughly 4,700 hotel rooms will be connected via skywalk to the convention center and Lucas Oil Stadium.

"Many meeting planners and executives are saying, 'Wow, the [easy access] of the city translates into sustainability," ICVA spokesman Chris Gahl said. "Other cities can't tout that."

Another tenet of the ICVA's green initiative is its partnership with the local Second Helpings Inc. food rescue program, in which leftovers from meals served at the convention center are donated to the organization. Second Helpings in turn re-prepares the meals to serve at food kitchens.

Service projects play an integral part, as well. Conventioneers might have the opportunity to plant trees with Keep Indianapolis Beautiful Inc., for instance.

More mundane aspects include recycling programs and energy-efficiency policies in which lights and air-conditioning are turned down during non-peak hours.

Gahl estimated that at least half the proposals it receives from organizations considering Indianapolis to host its conventions inquire about the city's sustainability.

Locklear lauded the ICVA for its efforts and said it stacks up well against the competition.

"They probably don't do anything over and above them, but they're certainly right in line," she said. "I'm not sure in what way they could do more, because I think they do quite a bit."

Hotels also are becoming more eco-friendly, not only to cut energy costs but to attract visitors.

Nationally, the Washington, D.C.-based U.S. Green Building Council has a hotel and conference center questionnaire posted on its website. The survey inquires about such issues as renewable energy sources, alternative transportation accessibility and waste management strategies.

The market is driving the hospitality industry's transition to green, said Amanda Cecil, assistant professor at Indiana University's Department of Tourism, Convention and Event Management.

"The hotels are having to respond because it's being requested of them," Cecil said. "It's so competitive."

ICVA last year issued a survey of its own to collect information from Indianapolis hoteliers to help assess the city's greenness. The data is provided to meeting planners to assist in the selection process.

The six-page survey queries hotels on whether they have a recycling program, whether they use locally grown food products, and whether they have energy-efficient shower heads, faucets and toilets, on top of issues similarly addressed in the Green Building Council survey.

The Hilton Garden Inn at 10 E. Market St. has taken its green efforts to another level. With solar panels on the roof, it boasts one of the biggest applications of solar power in the city. Though the panels provide only about 3 percent of the hotel's power, they shave its bill at peak times—hot, sunny days when air-conditioners are cranking.

That's often the exception rather than the norm, though, said Jonathon Day, assistant professor at Purdue University's Department of Hospitality and Tourism Management.

Most efforts involve "unsexy things" such as air-conditioning and insulation. Still, their work should be applauded, he said.

"Some of the biggest hotel companies have been doing some really good work in energy-efficiency and recycling," Day said. "Much more than the linens note that you get when you check into the room."

Day discusses sustainability in his classes at Purdue. And Locklear at Meeting Services Unlimited acknowledged that greenness is one of Generation Y's passions, noting that it's only going to become more prevalent as new meeting planners enter the field.•