Is "good enough" good enough when it comes to live theater?

I don't ask that question facetiously. When it comes to movies, we are all used to good enough. On the average trip to the multiplex, we don't have expectations that what we are going to see on the big screen is going to be life-altering or paradigm-shifting. Sometimes we are in the mood for a good-enough romantic comedy and it seems like, on any given week, Jennifer Aniston is willing to give us one. When we need a good-enough action movie, well, here comes another with a handsome star on the poster wielding a firearm.

And, with the exception of the Beatles, there are few music groups from whom we ever expected an album filled with nothing but outstanding work (and, even then, there was "Taxman.") The album and disc generation was happy with a few really good songs surrounded by a lot of good enough.

Theater hasn't always been a high-expectation proposition. So called "boulevard comedies"—ones that were not intended for posterity and appealed to mass audiences rather than serious theatergoers—were as big a part of the golden days of theater as Eugene O'Neill and Arthur Miller were.

But just as rock-and-roll knocked Broadway standards off the charts, so, too, did television largely usurp boulevard comedies. When we want forgettable laughs, TV offers plenty. And we don't have to dress up or plop down money for a ticket.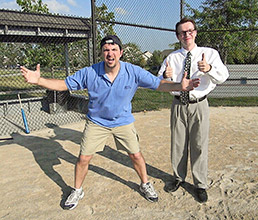 Roger Ortman and Nick Carpenter play conflicting Little League coaches in Richard Dresser's "Rounding Third" at the Carmel Community Playhouse. (Photo Courtesy Actors Theatre of Indiana)
Still, the good-enough comedy has managed to survive—even if such shows are rarely found on Broadway, where there used to be dozens a season. Local case in point, Richard Dresser's "Rounding Third," currently seen in a good-enough production staged by Actors Theatre of Indiana (through Sept. 26 at the Carmel Community Playhouse at Clay Terrace).

The 2002 play, which has been produced all over the country (including a run in Chicago with George Wendt), concerns a seemingly hard-nosed Little League coach who is teamed with an assistant with a very different philosophy about the game. With that information, you can probably write much of the play in your head. Therein lies the show's appeal and its Achilles' heel.

You won't be surprised to hear that the duo sends mixed messages to the team. You won't be surprised that the tough guy reveals a soft center and that the "we're all winners" guy has a secret competitive streak. And you won't be surprised that both have issues at home.

Neil Simon, in his heyday the master of the popular comedy, would have surrounded these two with a small world of characters to bounce off of. We would have met the coach's wife and, perhaps, the sons of both players. The laughs would have been stronger because Simon would throw some surprises in and then, without missing a beat, remind us of the humanity of these guys. Dresser is no Simon, though, and his odd couple becomes predictable even before the end of their first meeting.

I'm guessing that one of the draws in other towns has been the quality of the acting. Great actors can make good-enough material soar—in the same way a great ballplayer might make you glad you went to the ballpark even if the team isn't a winner. Like the show, actors Roger Ortman and Nick Carpenter—both seeming a bit on the young side—and the direction by Don Farrell are polished and professional but don't go anyplace even remotely uncomfortable or unexpected.

Which is fine, if good enough is good enough.

Halfway through, I found myself hoping Actors Theatre will amortize the creative-yet-simple sets and stage a production of "Damn Yankees" at some point. Now that one they might be able to hit out of the park.•

__________

This column appears weekly. Send information on upcoming arts and entertainment events to lharry@ibj.com. Twitter: IBJarts.