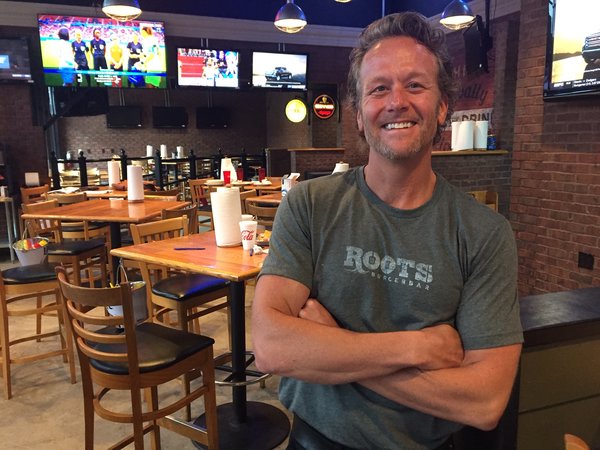 Roots Burger Bar in Muncie is planting a second restaurant in Carmel after successfully weathering the worst of the pandemic at the original location.
The new restaurant's ownership group, headed by former Scotty's Brewhouse owner Scott Wise, has agreed to lease a 2,500-square-foot space in Brookshire Village Shoppes at 126th Street and Gray Road, Wise told IBJ on Tuesday.
The group—including some of the investors in the Muncie restaurant and a few new investors—expects to spend about $700,000 in the new location at Brookshire Village Shoppes, Wise said. It's expected to open in January.
Indianapolis-based developer KennMar bought the 67,000-square-foot Brookshire retail center for $6.4 million in 2019 and began looking for a tenant for the anchor space, which had been empty since Marsh Supermarkets closed the O'Malia Food Market there in 2017.
KennMar signed Needler's Fresh Market and embarked on a multimillion-dollar refresh of the center's façade. Needler's opened its 25,000-square-foot store in August.
"This was an opportunity that was presented to me, … and we decided it was one that we needed to take advantage of," Wise said of the new Roots restaurant. "I loved the idea of just being a small burger bar situated within a small center with the addition of the new Needler's grocery store and the sprawling neighborhoods all around us."
Expansion also made sense after the original Roots performed well during the pandemic, Wise said. He credited operating partner Phil Wills, who manages the Muncie location while Wise concentrates on his new career as a retail real estate broker for the Indianapolis office of Dallas-based CBRE.
"Phil did an amazing job managing his team during the worst of the pandemic and even coming out of it by keeping our team safe, our guests safe and managing a very successful restaurant," Wise said.
Wise sold his Scotty's Brewhouse chain in 2016. He and his financial partners opened Roots Burger Bar in mid-2019 at 1700 W. University Ave.—the building that housed the original Scotty's Brewhouse location that opened in 1996. Hence the name "Roots," a sly reference to getting back to one's roots.
Roots pitches itself as an American cafe with a classic diner vibe and a focus on smashed burgers. The menu also includes wings, chicken sandwiches, tenderloins, chili dogs, and fish and chips.
Wise said the Roots owners also are evaluating a third location, but there is no strategy for growth beyond taking each opportunity on a case-by-case basis.
"I want my true focus to be commercial real estate," he said. "I really enjoy what I'm doing now and I want my 'side hustle' to be something that keeps me enjoying the industry I truly love."
Please enable JavaScript to view this content.