When we finished the meal that I would base this review on, my companion suggested I keep it short and sweet: Yum.
That's a succinct summary of our trip to Mesh on Mass Avenue (725 Massachusetts Ave., 955-9600), Avon-based Cunningham Restaurant Group's latest entry to the downtown dining scene. But as a word person, I feel compelled to elaborate.
Located in space that once housed the Scholars Inn Restaurant and Lounge, Mesh exudes a classy-yet-hip vibe: upscale without being pretentious, comfortable without being sloppy.
The service is stellar. The menu is creative. The food is, well, yummy.
 We visited for lunch, and I have to admit being a little confused by the so-called "small plates"—everything from a $9 Wild Mushroom Strudel to a $23 Filet Mignon. Are they appetizers? Meals? We asked our server for recommendations and ended up concentrating on the sandwich half of the menu.
The Slow Cooker ($12) featured melt-in-your-mouth tender braised short ribs, caramelized onion and a suitably subtle horseradish mayo on a crispy French roll. Delicious. I paid an extra $1 to substitute hand-cut fries for the standard sweet potato chips, and enjoyed the Parmesan-dusted potatoes and house-made sweet ketchup nearly as much as the sandwich. My only quibble: The fries could have been a little crispier.
My friend's Cuban Chicken ($10) was just as good. The tasty take on the traditional Cuban sandwich substituted a juicy chicken breast for the standard—and often dry—roasted pork, marrying that with Gruyere cheese and the expected ham and Cuban bread. Instead of mustard and pickle, Mesh's version features andouille mayonnaise and mango jalapeno relish, delivering the perfect combination of heat and sweet. She opted for the fresh sweet potato chips, which were as tasty as the fries and a bit healthier.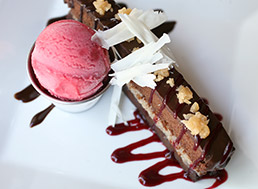 Served with a scoop of raspberry sorbet, the Chocolate Marjolaine is worth saving room for. (IBJ Photo/ Perry Reichanadter)
We both qualified for the clean plate club, so we split a dessert to celebrate. Our choice: Chocolate Marjolaine ($7), or "that chocolate thing," as we called it after our server described an intoxicating fudge-meets-mousse concoction. Served atop an almond cream with a scoop of raspberry sorbet on the side, and chocolate syrup on top, it was heavenly. And it only got better when we realized that what looked like nuts sprinkled on top was actually toffee. Must. Have. More.
 So, yeah, yummy it was. We left more than satisfied—and with time left on my parking meter—thinking that if lunch was that good, we can't wait to try dinner.•
—Andrea Muirragui Davis
__________
 Second in our month-long series of reviews of new, downtown-ish restaurants.
 
Please enable JavaScript to view this content.