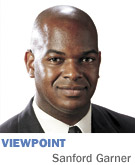 It would be easy to blame the economy for our blighted urban neighborhoods. True, these tough economic times have led to more vacant and foreclosed houses than we can count. But the key to revitalizing a neighborhood stretches far beyond boarded-up houses. If we want to see positive changes in our neighborhoods, and attract businesses, we have to be willing to change our thinking.
For years, people in neighborhoods in and around downtown have said they want more stores. They want Target or Meijer or Trader Joe's. They want more restaurants, dry cleaners and grocery stores. Yes, it would be great not to have to drive to the suburbs to grocery shop. But it's not just the economy preventing stores from coming to near-downtown neighborhoods. Stores aren't going to invest in a neighborhood that doesn't have the kind of density, income, education level or traffic they need to be profitable.
There are several near-downtown neighborhoods looking at ways to revitalize, such as the area around 20th Street and the Monon Trail, the St. Clair Place neighborhood and the King Park area. While residents typically embrace the idea of revitalization, they, too, often get in the mind-set that the only way to revitalize is to raze abandoned houses, build new ones, and bring in some retail. If only it were that easy.
The challenge of revitalizing an urban community is all about balance. As residents clamor for more retail, they have to understand that the only way to accomplish it is to increase the density of the area. One sure way to accomplish that is multifamily housing, whether that's apartments, duplexes, townhomes or a combination.
Whoa. Residents speak out about that. They don't want an apartment complex in their neighborhood. Somehow apartments have gotten a bad rap. There's an impression that all apartment complexes are bad. Residents worry that a townhome building is going to be 20 stories high and look out of place. But not all townhomes are high-rises; we can point to a host of successful townhomes around the city that blend into the surroundings. Again, this is about balance.
If Indianapolis neighborhoods have a chance of attracting more retail—whether it's a Target or an independently owned business—we have to figure out how to bring balance, so there is enough density, traffic and buying power to make that feasible.
We can't give up. Look at Fall Creek Place. The development of work-live spaces, such as Douglas Pointe at Delaware and 25th streets, helped provide the mechanism to bring businesses to a community setting. And, because of it, we have new treasures such as Goose the Market, a hair salon and yoga studios. There is enough density from the redeveloped Fall Creek Place neighborhood and enough buying power in the area to make it attractive to businesses. The same has happened along Massachusetts Avenue, where higher-density properties have led to increased commercial development.
In the area around 20th Street and the Monon, which was part of a study by a national team from the American Institute of Architects, the density is about 140 people per block. Retailers can't survive with density that low. It's going to have to be at least twice that amount before a retailer will even think of investing in the neighborhood.
Neighborhoods have to be willing to embrace the idea that multifamily facilities don't have to hinder a community's image; rather, they can be the catalyst for helping bring improved amenities to an area. We can revitalize our neighborhoods, recruit the type of services and retailers our residents are seeking, and improve the quality of life, if we're willing to think broadly and work together, even in these tough economic times.•
__________
Garner is president and founder of the Indianapolis architecture firm A2SO4, is the incoming president of the National Association of Minority Architects, and serves on a national urban sustainable design committee.
Please enable JavaScript to view this content.