Consumer groups are blasting a proposed settlement between industrial customers and Duke Energy that would cap for now the escalating costs of the utility's Edwardsport coal gasification generating plant.
They've also called into question the Indiana Utility Regulatory Commission's oversight of the Edwardsport proceedings, noting the agency's chief legal counsel has accepted a job with Duke. Scott Storms worked on the Edwardsport case as recently as July 23, said Citizens Action Coalition.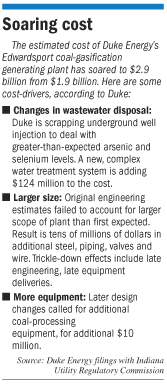 CAC contends that the proposed settlement gives Duke the opportunity later to roll in cost increases associated with potential government regulation or other events. It also argues that the plant's cost overruns justify its cancellation.
"They're completely ignoring carbon risk here," Kerwin Olson, program director of CAC, said, referring to potential federal regulation to limit carbon dioxide emissions.
The 618-megawatt plant now under construction will be among the largest of a new generation of coal plants that convert coal to gas, clean the gas of pollutants, then burn it.
The IURC is weighing Duke's latest estimate of plant construction costs, estimated to be $2.9 billion. That's $530 million more than an upward revision last year and way above the $1.9 billion original estimate.
CAC said it was not included in settlement discussions among Duke, industrial ratepayers and the Indiana Office of Utility Consumer Counselor.
The settlement, if approved by the commission, would cap Edwardsport costs at $3 billion, more than the latest estimate.
Among other provisions is a revised depreciation rate that would save customers $35 million a year.
But CAC says the proposed changes to depreciation and capital are "short-lived" because they could go away in Duke's next rate case in 2012, "which is when Duke would have filed a rate case, anyway."
Duke said the settlement, if approved, would lower the rate impact of Edwardsport to a 16-percent average increase, down from 19 percent in the first full year after the plant is to go online in 2012.
Duke plans a pretax charge to earnings in the third quarter of up to $45 million to reflect the settlement.
CAC argues it would be less costly for ratepayers to cancel the project, which is about 70 percent complete.
It points to testimony given earlier this year by a Duke vice president that showed, under one scenario, that cancellation would be the lowest-cost option. But the Duke official said the cost difference between various options wasn't substantially different.
Gov. Mitch Daniels has supported gasification as a way to continue to use the state's abundant coal resources.
The CAC on Sept. 21 cited the recently announced departure of Storms to Duke as an example of a cozy relationship between the IURC and the utility.
"At a minimum, it is difficult to maintain the appearance of impartiality when the person overseeing the regulatory process is either shopping for work or being courted by the utility he regulates," said CAC's executive director, Grant Smith.
The group alleged Storms may be in violation of the state ethics code regarding post-state employment. CAC cited an example the commission states on its website: "You work for the Utility Regulatory Commission making regulatory decisions concerning a public utility company. You may not work for this utility company for a year," it states.
But on Sept. 20, the State Ethics Commission issued an advisory opinion saying Storms "neither negotiated nor administered a contract" with Duke. The commission also said Storms never made a regulatory or licensing decision on behalf of the IURC involving Duke. Thus, the commission opined that Storms is not subject to the one-year "cooling-off period" of employment with Duke.
"That's ridiculous," responded CAC's Smith.
While not a commissioner, Storms often ruled on matters such as whether to admit evidence in various utility cases involving Duke, Smith noted. "I just think it tarnishes the whole process."
IURC spokeswoman Danielle McGrath said the finding on Storms was consistent with previous ethics commission findings.
"The IURC is in accord that only commissioners, the sole decision-makers, are covered by stricter requirements than its employees," McGrath said.
But the ethics commission did note that Storms would be prohibited from representing or assisting Duke in five specific cases, including one involving the ongoing Edwardsport reviews.•
Please enable JavaScript to view this content.