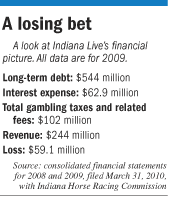 Owners of the Indiana Live racetrack and casino face an interest payment on the lion's share of their $544 million in debt next month, as credit analysts continue fretting about the company's ability to pay its bills.
Rating agency Standard & Poor's noted that the Shelbyville venue boosted revenue 25 percent in the first quarter of 2010. But they say that hasn't allayed their concerns about Indiana Live's massive debt.
Most of the debt is in the form of $440 million in bonds, which have required interest payments in May and November. The size of the November payment wasn't disclosed in public documents; Indiana Live's total interest expense this year is expected to be $54 million.
S&P analysts say default could be imminent.
"It's something we've seen coming and are anticipating relatively soon," S&P's Ben Bubeck said. "You can only be generating less than you need for so long."
In what could be another sign of financial distress, Indiana Live in recent months cut ties with The Cordish Cos., the Baltimore-based developer hired to manage Indiana Live.
Sources close to the matter confirmed the split, but would not share details while the parties try to reach a peaceful settlement on the early termination of the 10-year contract. The casino paid $7.2 million in management fees last year, according to a filing with the state.
A Cordish partner did not respond to requests for comment, and Ross Mangano, chairman of South Bend-based Oliver Racing LLC, which owns Indiana Live, would not discuss the Cordish contract.
Mangano also would not share details about Indiana Live's finances. But he emphasized that the company is working to improve its financial condition, adding there is "no imminent problem."
"We're doing everything in our power to address our balance sheet and improve it," Mangano said. "We've been dealing with this debt from day one and we're still dealing with it."
Both Indiana Live and Indianapolis-based Centaur Inc., owner of Hoosier Park in Anderson, borrowed heavily after the General Assembly in 2007 allowed the horse tracks to add slot machines in return for a $250 million licensing fee.
The slots parlors, which opened the following year, have drawn smaller crowds than projected, in part because of the recession. Centaur slid into Chapter 11 bankruptcy in March of this year and is selling off holdings in Colorado and Pennsylvania to reduce debt.
In the upcoming session of the General Assembly, lobbyists for both racinos plan to appeal to lawmakers for help. The want an adjustment to the venues' taxing formula that could provide up to $12 million per year in relief.
But lawmakers say passing such a measure will be a tough task in a year when the state is hurting for money. And even if it were to pass, some predict that won't be enough to put their debt-saddled owners on solid financial footing.
Feeling the strain
Indiana Live increased its gross revenue from $48 million during the first three months of 2009 to $60 million during the first three months of this year. But a July S&P report said the improvement wasn't enough to justify a rating upgrade. Since October 2008, Indiana Live has carried a rating of CCC with a negative outlook, close to the bottom of S&P's scale.
The S&P report noted that, as of March, the company had no remaining availability under its $25 million line of credit.
"We still feel concerned that it's not enough of a ramp-up to provide the cash they need to meet their fixed charges," said Ariel Silverberg, an S&P credit analyst who helped write the report.
Silverberg and other analysts wrote in the report that debt restructuring is likely, a move that potentially could include bankruptcy.
In 2009, the company brought in $244 million in revenue. But after expenses such as $102 million in gambling taxes and $62 million in interest expense, it wound up with a $59 million loss.
In March, the company's auditing firm, Somerset CPAs, echoed the concerns of credit analysts, estimating Indiana Live would need $25 million beyond the cash generated from operations to pay its bills this year.
"The company does not currently have enough capital to fund operations for the next year considering required debt term payments, related interest payments, and capital and operating lease obligations," auditors wrote in the report.
In addition to borrowing to pay the state's slots-licensing fee, Indiana Live spent $210 million to buy gambling equipment and design and build its gambling facilities. Interest on most of the debt is 11 percent.
Experts say the licensing fee and the slots rollout aren't all that's dragging down the racinos.
Alan Klineman, a chairman of the Indiana Gaming Commission in the 1990s, said the number of casinos in the state, plus competition from venues cropping up in other states, has saturated the market.
Excluding the racinos, statewide casino revenue was at a five-year low of $2.4 billion in 2009.
"We were very careful that we were not giving out licenses to people who were so actively competing with each other that they wouldn't be successful," Klineman said.
The S&P's Bubeck said that, since the beginning of 2008, about two dozen of the roughly 70 gambling-sector companies the agency rated have defaulted as the weak economy cut into consumers' discretionary spending. He is not projecting much of an uptick until at least 2012.
The challenges are especially acute for Indiana's racinos, he said, because they're not allowed to offer table games. In addition, he said, the stiff licensing fee limited their ability to build lavish facilities on par with those in places such as Las Vegas.
Expensive solutions
Under the current tax setup, both Indiana Live and Hoosier Park pay a 15-percent tax to the horse racing industry, plus another 4 percent in other taxes.
They also are taxed starting at 25 percent of the first $100 million they bring in. That tax increases to 30 percent for revenue between $100 million and $200 million and 35 percent of revenue in excess of $200 million.
That overall revenue tax includes the 19 percent in other taxes they pay, which means they are essentially being double-taxed on a share of their revenue.
Doug Brown, an Indianapolis attorney who lobbies for Indiana Live, projects that will cost both casinos $12 million this year.
"It puts racinos at an unfair competitive disadvantage and in an untenable financial position," Brown said. "It's an unfair situation that should be corrected."
Some lawmakers agree, but are hesitant to concede that taxes and licensing fees are at the heart of the businesses' financial troubles.
Sen. Luke Kenley, R-Noblesville, who oversaw much of the racino debate, said the underlying problem is that Indiana Live borrowed with abandon instead of raising more equity to fund its expansion.
Kenley, who sits on an interim study committee on gambling, said he agrees double-taxation for racinos needs to be eliminated. But he said this would be a tough time to make the change.
A report issued by the Indiana Fiscal Policy Institute last month showed dwindling tax revenue will cause a projected $1.3 billion budget gap as the state enters its next budget cycle.
Mangano said in addition to correcting the double-tax, he would like the Legislature to allow table games at Indiana Live.
Rep. Terry Goodin, D-Austin, one of two leaders on the interim study committee, said that is among the options the committee is exploring. Another possibility is taking the double-tax away in phases.
The committee is expected to issue a report Nov. 1.•
Please enable JavaScript to view this content.