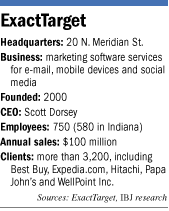 To many around these parts, ExactTarget is still that software/services company that helps businesses market themselves via e-mail.
So when co-founder and CEO Scott Dorsey recently referred to e-mail as the 10-year old company's "legacy product," some were left scratching their heads.
E-mail is the e-mail firm's quaint legacy product?
Sure enough. These days, e-mail is merely one component of ExactTarget's explosive growth, which included last month's announcement of 500 new jobs by 2015.
In the last few years, ExactTarget's software-as-a-service platform has been expanded to support additional marketing channels, such as mobile devices and social media sites such as Facebook and Twitter.
Besides the broader delivery channels, throw in the more sophisticated analytics included with its software and ExactTarget is arguably stepping on the robe of the Big Kahuna of marketing software, Indianapolis-based Aprimo. Aprimo's software supports numerous Fortune 500 companies' broader marketing campaigns and in-house marketing administration.
E-mail, says ExactTarget Chief Marketing Officer Tim Kopp, "will continue to be an extremely material part of what we do."
One of its largest clients, for example, is Groupon—a daily deal site that offers customers discounts on everything from restaurants to hotels. ExactTarget powers Groupon's 125 million e-mails a month throughout the United States and Europe.
But "it is undeniably the tidal wave of social and mobile [marketing] that is coming. … We don't have many discussions with decision-makers where mobile and social media don't come up."
The privately held Indianapolis company doesn't break out how much of its annual revenue—$95 million in 2009—can be traced to social media or mobile marketing products. It's sort of irrelevant, anyway, given that ExactTarget's latest offering, the platform known as Interactive Marketing Hub, allows companies to advertise across all diverse channels—whether e-mail, mobile devices, social media or websites.
Social media advertising is still developing, but marketing types are salivating at the potential. ExactTarget estimates that 5 percent of U.S. online consumers are Twitter followers. That equates to 11.5 million households.
About 42 percent of U.S. households, or 46 million people, use Facebook at least once a day.
Industry analytics firm Gartner Group, in a report last month, said it is seeing more companies in the business-to-consumer realm that have invested in a variety of tactical marketing technologies "looking to consolidate their marketing applications and move to more integrated platforms, with fewer vendors."
That means forget contracting with a separate e-mail marketing vendor, separate mobile marketing firm and separate social media software firm.
With a company using multiple software vendors supporting particular marketing channels, "you end up with the left hand not knowing what the right hand is doing," Kopp said.
Marketers have growing expectations from the vendors in ExactTarget's realm, where Forrester Research lists 15 companies as players. ExactTarget was ranked among the leaders of the pack.
"Given the increasing complexity of the e-mail marketing channel, including the need to integrate e-mail with social and mobile channels, the call for strategic guidance will only continue to grow in importance," Forrester says in its latest report on the sector.
Being able to effectively pitch through multiple channels is king.
Take, for instance, ExactTarget client Scotts Miracle-Gro Co. Scotts struck a deal with Major League Baseball to sponsor the fields of several baseball stadiums, including Cincinnati's Great American Ballpark.
Someone attending a Reds game this summer would've seen a Scotts ad flashing on the stadium's video screen. The ad included an invitation to any fan who wanted to know how the groundskeepers kept the stadium lawn looking so good. Fans could text the keyword on the stadium video screen and Scotts' ExactTarget platform would e-mail the fan a groundskeeper's guide and maybe even a coupon.
The fan could then elect to share it via Facebook or another social media site with a friend.
The potential reward of social media marketing itself hasn't been a surprise.
"What's surprised us is the interactivity that's happened across all the channels," Kopp said.
ExactTarget clients use such marketing pitches in other settings, such as in retail stores. For instance, a client could be waiting in line on Black Friday and see a sign to text a keyword for more information on a product. That way, marketers catch the potential customer while at the height of their interest, while they're engaged with a brand at the store. Again, they could share the e-mail they receive with friends via social media sites.
But ExactTarget isn't the only company in its genre staying abreast in this changing world.
"Expect a lot more of this in the future. The trend to watch is larger 'digital marketing' vendors developing that manage e-mail, Web and social channels," said Bob Thompson, CEO of CustomerThink Corp., a Burlingame, Calif.-based research firm.
Companies such as San Bruno, Calif.-based Responsys and Boston-based Neolane are also e-mail marketing vendors moving into "multichannel campaign management," said Adam Sarner, an analyst at Gartner Group.
"Expect more competition from evolving niche players as campaign management itself becomes an increasingly online activity," Sarner said.
Ad campaign management software is also a portion of Indianapolis-based Aprimo's business. Aprimo, which had nearly $70 million in sales last year, has offered customers an increasing number of tools in channels such as e-mail, blogging and social marketing.
Aprimo's bread and butter, however, has been marketing administration, which involves sophisticated software to manage and analyze and plan marketing strategies across all delivery formats, including traditional ones. Social media and e-mail marketing remain a small slice of Aprimo's overall business.
"Multi-channel e-marketing is just one aspect to the broader landscape of marketing technology," said Aprimo's chief marketing officer, Lisa Arthur, calling Aprimo the leader in integrated marketing management software solutions.
E-mail marketing, she said, "is the most crowded and commoditized category, with dozens of competitors." Customers seeking "an easy-to-use, yet more sophisticated e-mail marketing solution turn to Aprimo."
Kopp plays down the notion of emerging competition with Aprimo, noting that the firms have a different focus.
While ExactTarget will continue to focus on new opportunities in mobile and social media, ironically there's still a way to go in e-mail marketing. Just a decade ago, many businesses weren't even using such marketing. Even today, some firms are just starting to adopt it as a marketing tool.
"In many ways, I think we're in the early days of e-mail," Kopp said.•
Please enable JavaScript to view this content.