Mobile-phone-answers service ChaCha predicts it will field its 1-billionth question sometime next month.
Traffic to the site hit a record high of 18.5 million unique visitors in October, making it the fastest-growing in Quantcast's top 100 websites.
Carmel-based ChaCha has been a hit among teen-agers who need an answer while on the go. They text their inquiries to ChaCha, with the question answered by human guides or, increasingly, via a database of previously answered questions about everything from celebrities to science.
Last month, ChaCha closed a $20 million round of funding from Rho Ventures and VantagePoint Venture Partners. The company was founded by serial tech entrepreneur Scott Jones and has had backing from big names such as Compaq Computer's Rod Canion and former EDS President Mort Meyerson.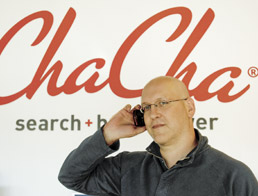 ChaCha has spent the last year making the answers service more prominent online, on mobile and on Twitter and Facebook, says CEO Scott Jones. (IBJ File Photo)
"Having already passed Google as a provider of text answers, we see no limitation on our continuing growth," Jones said.
The privately owned company doesn't disclose revenue. It's landed big advertisers itching to reach teens, including McDonald's, Paramount Pictures and Best Buy.
Please enable JavaScript to view this content.