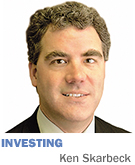 Congratulations to all of you on the successful initial public offering of your interest in General Motors on Nov. 18. The IPO of GM, whose shares had not traded publicly for 17 months, possessed added intrigue in that the largest selling shareholder was the U.S. taxpayer.
The math on the GM IPO is as follows: The government put $49.5 billion into GM for a 61-percent ownership stake after the company declared bankruptcy in June 2009. Since then, GM has repaid $9.5 billion of the loan, leaving $40 billion owed to taxpayers before the IPO.
Taxpayers netted $11.7 billion in the IPO from the sale of 358.5 million GM shares at $33 per share. Underwriters may sell another 60 million to 70 million shares based on strong demand from investors, generating another couple of billion dollars. In the end, taxpayers will still hold an approximate 33-percent stake in GM worth $16.5 billion. In order for the U.S. Treasury to recoup the full $49.5 billion poured into GM, the stock price would need to rise into the low 50s.
During GM's government-assisted bankruptcy, concessions were won from GM bondholders and the UAW, factories and dealerships were closed, and thousands of jobs were eliminated. The company's assets were divided into the "new GM," which includes the Chevrolet and Cadillac brands, and the "old GM," whose assets were placed in the company's bankrupt estate.
The old GM, now called Motors Liquidation Corp., whose shares inexplicably continue to trade actively in the pink sheets, holds the closed factories and the Saturn brand that are to be liquidated with proceeds going to creditors. The company has repeatedly warned investors that the stock has no value, with claims against these bankrupt GM assets amounting to $37 billion and counting.
Motors Liquidation cashed in $5 billion in the IPO, which will go toward repaying creditors. The bankrupt old GM recently reached a $773 million environmental settlement with 14 states, including Indiana, to pay for cleanup costs at 89 closed properties.
The new GM emerges essentially debt-free, except for reduced pension liabilities, and believes it can be profitable in an economy with 10.5 million car sales annually. If car sales were to approach 15 million annually, GM forecasts pretax profits of $13 billion. GM also expects to sell 2 million cars in China this year.
This unusual taxpayer-owned IPO did create some interesting conflicts. In a typical IPO, the investment banks that handle the sale and distribution of the stock try to reach a happy medium when pricing the shares for sale. They try to price high enough to allow selling shareholders attractive proceeds from their sale, yet set at a price low enough to create demand from new investors to buy the newly issued stock.
In practice, Wall Street sets the price of most IPOs low enough to generate excitement and create a jump in the stock price on its opening day of trading.
However, in the GM IPO, underwriters were pressured to price the shares as high as possible to maximize the proceeds for U.S. taxpayers. This caused grumbling among some institutional shareholders and hedge funds who were hoping to "flip" their GM stock for a quick profit. Those parasites need to look past their own short-term greed and focus on the overall benefits to the country.•
__________
Skarbeck is managing partner of Indianapolis-based Aldebaran Capital LLC, a money management firm. His column appears every other week. Views expressed are his own. He can be reached at 818-7827 or ken@aldebarancapital.com.
 
Please enable JavaScript to view this content.