Indiana University President Michael McRobbie said 15 years of IU committee studies on using the Internet to deliver college instruction haven't done the trick.

So this fall, the information technology specialist charged one man—IU Informatics Dean Bobby Schnabel—to come up with a winning strategy for the future.

McRobbie's timing is no coincidence. Universities across the nation face mounting political pressure to churn out more graduates, and the Internet is one potential way to ramp up productivity.
McRobbie
Even greater pressure is coming from below, as a wave of students is showing up on campus hard-wired to conduct life via Facebook, Twitter, text and chat. Traditional universities like IU know they must shift to satisfy their customers' demands—or else lose students to upstart competitors using digital technology to offer college curriculum at greater convenience.

"In spite of excellent efforts by many, the right way ahead for the university as a whole has proven elusive," McRobbie said during a Sept. 28 speech. He said he wants IU to act "aggressively" in this "vital" area.

Online use in academia is surging. According to a November report by the Sloan Consortium, 5.6 million of the nation's 19 million college students took at least one online course in 2009, a 250-percent increase since 2002.
Schnabel
IU has its 11-year-old Kelley Direct MBA program, as well as an online doctorate program for nurses. Purdue University, meanwhile, has primarily used online education for distance instruction, offering more than 1,200 courses to more than 30,000 students. And Ivy Tech Community College offers 300 courses online.

But by far the most aggressive online operators have been for-profit colleges, such as the University of Phoenix and ITT Technical Institutes. They have ramped up online degree programs in business, IT security and even criminal justice.

Indeed, for-profit colleges claim 42 percent of students pursuing degrees entirely online, according to Boston-based Eduventures, even though they have fewer than 10 percent of all higher education students.

However, online courses do not appear to be wholesale replacing traditional on-campus courses—neither at IU nor at universities nationwide. Rather, what is emerging are courses built with a blend of in-person and online interaction.

The best example of this is the University of Central Florida, where more than 20,000 of its 56,000 residential students take at least one course over the Internet, via video or through a mix of in-class and online instruction.

The Bill & Melinda Gates Foundation cited the UCF example in launching its $20 million grant initiative to promote "blended learning."

"Programs such as UCF's blended learning classes can help today's modern students better balance their schedules between life and academics," the Foundation wrote to college educators.

Searching for efficiency

Policymakers hope a blend of in-person and online learning can help more Americans earn associate's and bachelor's degrees.

College completion has become a huge goal at the Indiana Commission for Higher Education, which a year ago based a round of cuts to university funding on completion rates and amount of spending per graduate.

The commission wants Indiana's colleges to turn out 10,000 more graduates—with either associate's or bachelor's degrees—each year between now and 2025. That kind of increase is the equivalent of adding two more IUPUI campuses.

"One of the reasons we're starting to see [blended learning] increase now is this increasing demand for people with college degrees," said Jamie Merisotis, president of the Indianapolis-based Lumina Foundation for Education. "How do you do that with limits on system capacity? Technology is a way to help get from here to there."

A new example in Indiana is WGU Indiana, the state-sponsored university that provides instruction primarily online, but also has an in-person component for all its degrees. The school started earlier this year and recently staged its first graduation.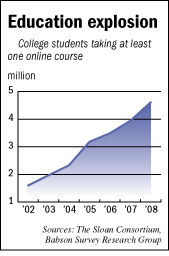 Costs for WGU Indiana are roughly $3,000 for each six-month term—about twice what it costs to attend the state-supported Ivy Tech, but about half as much as it costs to attend IU or Purdue.

But at IU, officials say their experiments with online education have, if anything, cost more money.

"There's certainly no big savings from online," said Schnabel, IU's dean of informatics. "You save on space, that's the one thing: fewer classrooms, parking spaces. But then you add on technology," which, he noted, requires an extensive staff to maintain.

Making college 'more valuable'

IU's challenge is bigger than just becoming more productive—which is a major goal, especially at its satellite campuses in smaller cities like Richmond and Kokomo.

The university also wants to maintain and even extend its reputation as a top-notch college with a rich educational experience.

"This is not a simple story: Just swap out classrooms for just a bunch of computers and online classrooms," said Brad Wheeler, IU's chief information officer. He added, "We've got an opportunity to use a blended approach to make the residential experience more valuable."

It's a lesson straight out of IU's Kelley Direct MBA program.

Kelley Direct students spend 90 percent of their time either reading or participating online via live Skype-like phone conferences, where professors go through slide presentations. The other 10 percent of the program happens when the Kelley Direct students gather for two-week sessions on IU's Bloomington campus.

Vivian Cintron chose Kelley Direct even though she lives in Noblesville, and could easily have attended IU's Indianapolis MBA program. But she also works for Roche Diagnostics in a job that had her traveling two weeks out of every month.

"My fear was that it was one class and the professor will never remember you. You have no interaction with the students, or you only chat with the students for one week and then not again," said Cintron, 41. "But not at all."

She said her professors made themselves available at all hours.

"I once sent e-mail to a professor from Germany at 2 a.m. [Indiana time] and got an e-mail back in an hour," she said.

Seattle resident Kelly Siple chose Kelley Direct even though he lives close to the University of Washington, which also has a well-regarded MBA program.

For Siple, the online program is structured in a way that let him keep his salary at LexisNexis and yet have enough time to be with his wife and two young sons.

Siple had to get used to the idea of an online MBA's being as good as a residential one. But he said the program has been a perfect fit—not only for his personal life, but for his work life, too.

"The business world has evolved to where, in my job, I almost never have a meeting where there's not a conference line involved or a WebX thing involved. That's the just normal way of doing business," he said. "Now the school's the same way."•