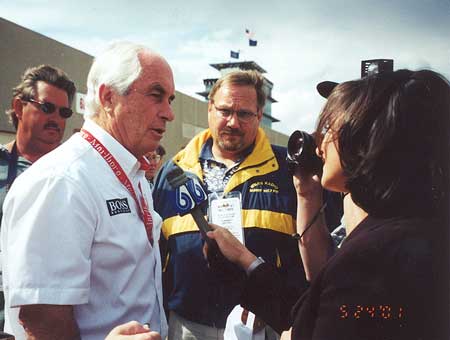 Roger Penske couldn't find full-season primary sponsors for all three of his IndyCar drivers, so his team is doing the next best thing: Piecing the money together so they can all race a full schedule.
On Monday, Penske's team said Izod will become the primary sponsor for the No. 6 car, driven by Ryan Briscoe, at the Indianapolis 500 and several other races, and will be an associate sponsor for all three cars for the 2011 season.
"Our first mission was to keep all three guys and provide them with a full season next year and it wasn't really until about a month ago that we felt pretty strongly that we could do that," Team Penske president Tim Cindric said. "We see ourselves continuing to build a la NASCAR. We have Verizon for a full year and the other two we won't have a full season of sponsorship."
Penske's team is the best-known in the IndyCar Series.
The winningest owner in Indianapolis 500 history has fielded multi-car teams for decades and has always had a full complement of sponsors. But with longtime primary sponsor Phillip Morris pulling out of the sport last season, Penske's team had to take a new tack by following NASCAR's model of shared sponsorship.
As usual, Penske is taking the lead.
Will Power does have full-time sponsorship from Verizon Wireless, which picked up the full-time tab for Power last season after spending 2009 as a part-time sponsor. Power was the 2010 series runner-up.
On Wednesday, the team announced Meijer, a Midwestern retailer, will be a major associate sponsor for the No. 12 car driven by Power. The Meijer logo will also appear as an associate sponsor on Briscoe's car and the No. 3 car driven by three-time Indy winner Helio Castroneves.
On Friday, the team unveiled Castroneves' new Shell V-Power car, which will appear in the Indianapolis 500 and several other races, but like Meijer and Izod will not appear at every stop on the IndyCar circuit.
"I think very few of the Cup cars have the same sponsor all year long, either," Cindric said, noting that Penske's No. 2 Miller Lite car is one of the few that is. "But I do think that is a sign of the times more than it saying something about IndyCar racing."
The Izod deal also marks another shift in the series' order as it becomes the third big-name company to leave Andretti Autosport since the end of last season.
Tony Kanaan, the 2004 series champ, lost longtime sponsor 7-Eleven and is now looking for a ride with another team. Meijer had previously been a sponsor with Marco Andretti's No. 26 car, and Izod was the primary sponsor for Ryan Hunter-Reay last season.
"We believe Ryan is the best American driver in the series and we believe good things are going to happen with him," said Mike Kelly, executive vice president of marketing for Izod's parent company, Phillips-VanHeusen. "We wanted to make sure we left him on stable ground and there's no question he is with Andretti Autosport."
But joining forces with Penske was too good to pass up.
Kelly said the series title sponsor also wanted to have an on-the-track presence during the centennial anniversary of the first Indy 500 and that the affiliations with Penske's other companies was a better marketing arm for the clothing line.
"It's about relationships and they are great values for the brand," Kelly said. "Some of it (the decision) was based on those advantages to do business across other sports platforms."
Cindric said Penske's team will use some of the team owner's own brand names on the sidepods this season, as it did last, and that the cars will not always comply with the team's traditional red, white and black paint schemes.
The Shell car, for instance, will be yellow. And last year's Izod car was gray and red, though it's not yet clear if Briscoe's car will carry the same colors this season.
Team Penske also hopes Meijer, Shell and Izod eventually sign-on as full-time sponsors, like Verizon did last season, but in this tough economy, Cindric is willing to take whatever he can get.
"We still have more potential for sponsors, but we're at a point where we feel we can commit to all three drivers and all three teams for next year," Cindric said. "And we're happy to be able to bring some major sponsors to the series."
This year was Izod's first as the IndyCar Series' title sponsor, and the company said it realized a 350-percent return on its investment. Motorsports marketers estimate iZod is paying $6 million to $7 million annually during its six-year sponsorship deal.
Please enable JavaScript to view this content.