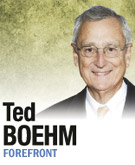 Those of you who work in manufacturing businesses, and many others, are familiar with the idea that a flawed process produces flawed products. The same is true of virtually every human activity, and government is no exception.
The most fundamental process in government is the election of our legislative representatives because that process produces the body that makes our laws, imposes our taxes, and decides how we will support public safety, education, economic development and an endless list of other important functions of government.
There seems to be widespread agreement among those who have focused on the issue that gerrymandering—drawing legislative districts to favor one party or the other—is undesirable. It has frequently been observed that, in a gerrymandered district, the legislators pick their voters and the voters have no voice in selecting their legislators.
We have elaborate conflict-of-interest policies that prohibit other officeholders from using their public positions to favor themselves or their cronies. Legislators who vote to create a safe district for themselves or their party have no less of a conflict of interest. In drawing legislative districts, the entire majority party caucus has the same self-interest. Despite conflicts within the majority jockeying for pockets of preferred voters, unlike other conflicts that are byproducts of a citizen legislature, there is no balancing force to protect the public interest. That alone is enough to jettison the practice.
Gerrymandering is harmful in ways that are not always understood. Here are a few.
First, the practice was originally viewed as drawing legislative districts by the majority party to dominate future elections by assuring a majority of safe districts, even if the party lost the majority of votes for its legislative candidates. We redraw district lines to reflect population changes after every census.
In 2001, a Democratic majority in the House drew House districts favoring its Democratic incumbents and a Republican Senate reciprocated. Each chamber then passed the other's map. The result was few competitive districts in the general election throughout the last decade, and Democratic control of the House despite a substantial majority of Hoosier votes cast for Republican candidates.
Just as Republican gerrymandering prevented Democrats from getting a share of the Legislature in the 1980s that reflected the voters' preferences, in the last decade the Republicans suffered under the yoke of a gerrymandered map of the Indiana House. In Indiana, we now have gerrymandering that is essentially a bipartisan incumbent-protection scheme.
Second, if a majority party victory is a foregone conclusion, the significant event becomes the primary election. So candidates of both parties run to the center of their party's supporters. The result is a polarized Legislature producing more bickering and posturing and fewer serious attempts at accommodation by a Legislature with few mediators or centrists. This is no fault of any individual legislator. It is the product of the dynamics of a group that has no center.
Third, because the state legislatures draw the maps for congressional races, the potential to gerrymander federal elections has now drawn the attention of big-money national forces eager to tip the balance of power in Congress. This produces funding of local legislative races by groups interested only in affecting national policy, with little if any concern for the quality or positions of our state legislators.
For the first time, we now have some legislators calling for neutral redistricting. We are all the customers of this legislative product. All of us should insist that their colleagues join them in eliminating gerrymandered districting and moving to a less-partisan Legislature.
A Senate district should be composed of two House districts. Districts should be compact and understandable and respect communities of interest.
If we do this, we will have a Legislature composed of some partisans from naturally partisan districts and also some mediators and centrists who can forge reasonable compromises.
There is no realistic prospect of action unless the public demands it.•
____________
Boehm retired in 2010 after 14 years on the Indiana Supreme Court. Before that, he was managing partner of law firm Baker & Daniels and held senior legal positions at Eli Lilly and Co. and General Electric Co. He chaired the Organizing Committee of the 1987 Pan Am Games and was the first CEO of Indiana Sports Corp. He currently chairs the Indianapolis Cultural Development Commission.•
Please enable JavaScript to view this content.