Question: Which issue facing the General Assembly has potential to make the greatest impact on student success?
Answer: Indiana politicians cle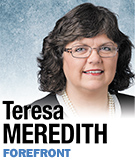 arly are divided on the "silver bullet" that will reform schools, but in reality, there is no simple solution to such a complicated issue.
This legislative session, the most important issue that will affect learning opportunities for Hoosier children will be whether legislators choose to play politics with children's futures by looking for simple solutions to complex issues. Or will they lead and invest in Indiana's economy by standing up for Hoosier children and giving them what is promised in Indiana's Constitution Article 8 under education? Hoosier children are to have access to a uniform system equally open to all, noting that knowledge is "essential to the preservation of a free government."
Issues including prenatal care, parental involvement, class size, home environment, early preparation for learning, nutrition, health care, teacher quality, instructional time, school supplies, interventions for struggling learners and more must be considered—all while keeping the state in the black.
Yet in order to stay in the black, sacrifices must be made. Unfortunately, children suffer the impact of those sacrifices. With every cut in school funding, a school corporation must cut its own budget. In Indiana, many corporations have slashed programs and support services and now are forced to cut classroom teaching positions.
Despite hard times, reduced funding and larger class sizes, I remain idealistic. My classroom can be compared to an orchestra preparing to perform a beautiful piece of music. I see every challenge that comes before my students as an opportunity, and when I have all the instruments coming together, I get excited.
I see the various instruments as the many skills my students need to succeed in life. I see the sheet music as the instruction and guidance I provide to help my students learn to perform or master those skills. I see the practice as the support for the learner outside the school—family, friends, activities, community support—that encourage and assist the learner with homework and life skills.
I envision the preparation of the instruments as my students' receiving what they need to stay healthy—immunizations, medicines, checkups, plenty of sleep in a safe place, nutritional meals and physical activity. And I see myself as the conductor, exacting the tempo in preparation for the big event—the performance: successful completion of the work required in order to advance.
As legislators prepare for the work ahead, I ask them to remember that educators are professionals working under stressful circumstances that have come about through politics. If legislators wish to be seen as leaders in education, they need to be bold enough to ask tough questions, questions that will serve as filters to determine whether action is being taken for the right reasons.
The questions include:
• What is the true purpose of this education legislation?
• Does this action directly help students? If so, how?
• Have public school educators been involved in developing this action? If so, how? If not, why not?
• Is there data to support the desired action?
In her book "The Great American School System," Diane Ravitch warns that reform efforts are eroding the quality and very existence of public schools: "We must turn our attention to improving schools, infusing them with the substance of genuine learning and reviving the conditions that make learning possible."
I agree with Ravitch. Indiana educators and legislators have tough times and many rehearsals ahead.
Let's leave politics aside and let leadership command the next performance. Like the conductor and the orchestra, let's work together and—with artistic skill, knowledge, experience and inspiration—we can command a production that brings together the very best of education reforms for our children and our state.•
____________
Meredith is vice president of the Indiana State Teachers Association and has taught 18 years in Indiana schools, currently at Shelbyville Central Schools. She chairs the ISTA Foundation for the Improvement of Education and organizes the Indiana Student Education Association. Meredith earned a bachelor's degree from Taylor University and a master's from Olivet Nazarene University.•
 
Please enable JavaScript to view this content.