The largest mall operator in the United Kingdom rejected a $4.6 billion takeover bid from Simon Property Group on Dec. 15, but analysts don't believe the Indianapolis company is ready to give up on the blockbuster deal.

"I don't think we're done," said Rich Moore, an analyst at RBC Capital Markets in Solon, Ohio. "My intuition and experience with Simon tells me when they're interested they don't just walk away when someone says no to the first offer."

In rejecting Simon's offer, London-based Capital Shopping Centres Group said the cash bid "very substantially undervalues the company and its prospects."

Capital Shopping owns four of the U.K.'s 10 biggest malls. The offer from Simon was conditioned on Capital's abandoning a planned acquisition of Trafford Centre Mall in Manchester in the United Kingdom. Simon has contended that the purchase price for Trafford—$1.2 billion, plus the assumption of $1.3 billion in debt and liabilities—is excessive.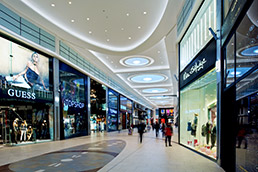 Capital Shopping owns four of the 10 biggest malls in the United Kingdom, including Newcastle's Eldon Square Shopping Centre. (Photo/Bloomberg News)
In a letter to Capital Shopping, Simon Property CEO David Simon said: "We recognize that Trafford Centre may be a strategically important asset, although we continue to have concerns regarding the agreed purchase price."

In a sign that Capital hasn't ruled out a Simon deal, the company on Dec. 15 rescheduled a shareholder meeting to vote on the Trafford purchase from Dec. 20 to late January.

Simon
Simon said in a statement that it "welcomes" the delay of the Trafford Centre vote. The Indianapolis company said the conditions listed in its "indicative" offer shouldn't pose a barrier to a deal and it expects access to information from Capital Shopping to make a formal offer.

Simon already owns more than 5 percent of Capital Shopping. The company, the largest U.S. mall owner, noted that its proposed bid was 26 percent more than Capital Shopping's closing share price on Nov. 24, the day before its interest was first disclosed.

This is the second time this year that Simon has faced resistance from a takeover target. It pursued General Growth Properties Inc., the second-biggest U.S. mall owner, for three months after being rebuffed by the Chicago-based company. General Growth, in bankruptcy at the time, favored a rival proposal to keep it independent and proceeded with that deal.

"They're going to be tenacious I'm sure," Moore said of Simon's Capital Shopping bid.

Capital Shopping disclosed Simon's interest in late November while announcing the agreement to buy the Trafford Centre from closely held Peel Group.


To make a firm offer, Simon will need "access to satisfactory due diligence," the company said in a letter to Capital Shopping.

The British company said it postponed the vote on the Trafford Centre agreement to "ensure CSC's shareholders are provided with the necessary information about the proposal to make a clear decision." The company said it expects to continue to back the purchase unless Simon provides a firm proposal the board is willing to recommend.

"There can be no serious doubt as to Simon's desire and ability to complete the proposed transaction," Simon Property said in a letter to Capital Shopping.

Simon is a smart buyer that doesn't overpay for acquisitions, said Alexander Goldfarb, an analyst at Sandler O'Neill & Partners.

"We continue to believe that SPG will maintain its investment discipline and only do a deal that is accretive essentially from day one rather than accretive on a longer-term basis," Goldfarb wrote in a report.

Simon cut its European holdings this year with the sale of its interest in a joint venture that owned seven shopping centers in France and Poland. It recorded a gain on the sale of $281 million, according to a regulatory filing.

Simon gets 3.5 percent of its net operating income from international operations, according to the filing. The company also owns outlet shopping centers in Japan, Mexico and South Korea.

At the REITWorld conference in New York in mid-November, David Simon said his company has plenty of capital for more purchases, even after closing on the $2.3 billion acquisition of Prime Outlets earlier in the year.

As of Sept. 30, the company had $1.3 billion in cash and another $3 billion available on a corporate line of credit.

"We still have a significant amount of firepower to do value-added transactions for the company," Simon said. "The one thing we will not do is do a deal just to do a deal."

Simon, 49, said during the conference that the company will continue to use cash to reduce debt and has "a great growth trajectory, regardless of any external activities."•