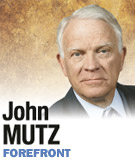 No doubt about it. My vote for collective bargaining rights for teachers as a state senator in 1973 was a big mistake. Not my only miscue in public life, but a whopper. Like many measures public officials think are sound, this idea had unforeseen and far-reaching consequences for the quality of public education.
Although collective bargaining is not the only reason for the current level of poor student performance, it clearly makes it almost impossible to implement major structural reforms. Indiana is not competitive with other states when only one in three Hoosier eighth-graders is able to pass national reading and math tests. And when compared to other countries, we do even worse.
The 1973 law establishes both mandatory and permissive subjects of collective bargaining. Mandatory subjects include salaries, wages, hours and fringe benefits. But the reality of the dynamic of bargaining today is that both mandatory and permissive subjects—such as working conditions, curriculum, textbooks, teaching methods, hiring, promotion, retention and class size—all end up on the bargaining table.
In fact, ISTA says in its instructions to local unions, "in reality there is no significant difference between mandatory and permissive subjects of bargaining."
It's no wonder that teachers' unions have gradually gained control of many aspects of public education. When finances are "tight," school boards have been forced to give in on all sorts of subjects normally considered management prerogatives.
Gov. Mitch Daniels says he wants to move Indiana's system to "student-centric learning." He points out that a fresh wave of change is sweeping the country from citizens who demand a better education for our children. Even President Obama can be counted as a reformer.
The governor maintains we are behind in modernizing the basic structure of education and "the almost dictatorial limits it places on principals, the best teachers and on parents."
So far in the run-up to the next legislative session, he has proposed merit pay for the best teachers and freedom to dump the worst, more options for parents to move their children out of failing schools, and repeal of laws that tie the hands of school officials. He also suggests more school choices for parents and letting students who have fulfilled their high school graduation requirements leave high school and use the money the state would have spent on them for advanced educational experiences.
Daniels' ideas are a good start, but they don't address the basic problem of how we get the best college graduates in large numbers to go into teaching. We should make it attractive for students in the top quartile of college graduates to enter teaching.
Of course, Teach for America, which convinces a number of top graduates to go into education, has brought many great teachers into the fold. But we need even more. This goal will probably be achieved by paying teachers more and by making teachers part of the school management process.
Annual compensation should be close to $100,000 per year and teachers together with principals should organize individual schools. The expensive central office and large overhead should be eliminated in the future and the savings Daniels has suggested from the high school senior year along with eliminating central office overhead would provide the savings for higher teacher compensation.
Under this plan, each school would be supervised by a local board, which would approve the annual budget and hold the school accountable for student performance.
This plan might sound like a charter school. And charters are a good tool to give parents choice, and should be expanded; but, along with charters, we need a new structure for running our schools.
Public Law 217, the collective bargaining statute, needs to be amended to clear the way for a new approach. While they have the power in the Governor's Office and strong majorities in both houses of the Legislature, Republicans must act. No excuses.•
____________
Mutz has held leadership positions including lieutenant governor and president of Lilly Endowment and PSI Energy. Send comments on this column to ibjedit@ibj.com.
Please enable JavaScript to view this content.