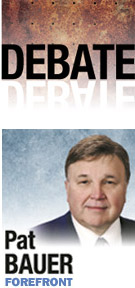 Question: What should be done to attract more young professionals to Indiana?
Answer: The people of Indiana could be excused for thinking the only jobs that are available for young professionals in our state are those tied to an ability to shoot a basketball or kick a football.
Consider the general presumption that Indiana did not benefit from the federal stimulus program. Certainly that was the way it was portrayed by those in charge of this state.
Many were shocked and awed when the president came to Kokomo recently to talk about how the stimulus program and the bailout of the automotive industry had helped our state. In fact, it inspired Chrysler to make an $800 million investment in its Kokomo operations.
So much of this surprise has come simply because this state is run by an administration that chooses to keep the public in the dark about such things as the quality of its job creation programs and the way it oversees the use of taxpayer dollars.
However, enough light creeps through to make it obvious that the potential is there for creation of the kind of high-paying jobs that don't involve cavorting in the sports palaces in downtown Indianapolis.
One such example can be found in support for the Midwest Institute for Nanoelectronics Discovery project that is a joint venture between the University of Notre Dame, in my hometown of South Bend, and Purdue University.
The project is designed to discover and develop the next logic device that will serve as the basic building block for future computers.
With development of this project comes the potential for development of ancillary industries that can offer employment opportunities in the types of technology and information services that will serve as a basis for the new global economy.
While manufacturing continues to play an important role in our economic base, we must be realistic and focus our attention on advanced manufacturing and green technologies.
When we use incentives to attract manufacturing jobs, we must realize that the same incentives should be used to attract the science, engineering and executive positions that are a critical part of that sector.
IBJ.COM EXTRA
Click here
to read Brian C. Bosma's viewpoint on this question.
The MIND project also demonstrates the continued importance of our state's colleges and universities as helping hands in addressing the needs of Hoosiers.
Can we find ways to use these partnerships to convince more young people that Indiana is a perfect place to earn a living and raise a family?
Consider the following:
Since 1990, the state has administered a scholarship fund to encourage people to pursue a nursing career in Indiana. Those who receive a scholarship must agree to stay in this state for two years after graduation to practice their trade.
Since 1988, the state has offered minority teacher scholarships to address a shortage of African-American and Hispanic teachers in Indiana. In later years, that program was expanded to assist students who wished to pursue careers in special education, as well as occupational and physical therapy, in our state.
There should be ways to expand these programs to encourage more Hoosiers to stay here to provide vital human services.
One such example can be the expansion of health care to thousands of Hoosiers who had been denied such services in the past. There will be a need for professionals to deliver those services. We should encourage development of programs that achieve that goal.
I believe the resources are at hand to give Indiana a chance to thrive for decades to come. All it will take will be the willingness to use them.
A good first step would be to realize that federal stimulus dollars are designed to help. We should use whatever assistance we get and be thankful for it.•
____________
Bauer is Indiana House Democratic leader and vice president of external partnerships at Ivy Tech Community College. Send comments on this column to ibjedit@ibj.com.
Please enable JavaScript to view this content.