Kent Kramer has overseen the opening of 16 Indianapolis-area Goodwill stores since 2005 and has an eye on two more locations in Fishers and Center Grove.

Goodwill's presence in busy strip malls lures plenty of shoppers, but donors are at the heart of the charity retailer's aggressive expansion strategy. That's because success as a thrift store hinges on fresh inventory.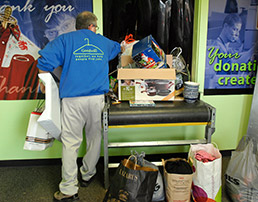 Don Gilliland, a donation attendee, stacks donated items on a conveyor belt at a Goodwill store in Fishers. Goodwill's retail sales rose 8.2 percent in 2010. (IBJ Photo/ Perry Reichanadter)
"People like the treasure hunt," explained Kramer, vice president of retail sales for Goodwill Industries of Central Indiana. "If you have the same stuff in there all the time, it's a diminishing return."

The recovering, yet-still-weak economy puts Goodwill in a sweet position. Consumer spending is up, so more old stuff makes its way to Goodwill. At the same time, high unemployment means the bargain hunters are still out in force.

Goodwill posted roughly $63.5 million in retail sales for 2010, an 8.2-percent increase over 2009. Same-store sales, a measure that cancels the effect of store openings, rose an enviable 4.5 percent.

Donations have explained the success, or lack thereof, of other charity thrift stores during the recession.

Salvation Army Indiana Division's stores, which support a drug and alcohol rehabilitation program, have struggled for lack of fresh goods, said Envoy Steve McNary.

McNary, who took over management of Salvation Army's six Marion County stores last summer, thinks Goodwill has become the first charity on most donors' lists.

"They have a real hold on this area," McNary said.

Salvation Army store sales grew 1.4 percent last year, and that was with the help of a new store on East Washington Street. (McNary declined to release total sales.)

This year, McNary intends to follow Goodwill's lead. He hired a consultant to help scout new locations and hopes to open two stores before June.

When the recession began, Thrifty Threads Manager Jennifer Durham braced for a drop in donations by holding inventory from one season to the next. Yet donations kept flowing, and the store at West 86th Street and Ditch Road saw double-digit sales increases in 2009 and 2010. (Durham declined to provide total sales.)

"Right now, I am plum full," Durham said. Thrifty Threads accepts donations for the Julian Center, a shelter for victims of domestic violence, and the National Council of Jewish Women.

Thrifty Threads has avoided competing head-on with Goodwill because it specializes in better-quality clothes and furnishings, Durham said.

Goodwill has been putting the abundance of its drop-off centers in affluent neighborhoods, a strategy that helps maximize collections. Even so, growth slowed at the height of the recession. Same-store sales in 2009 were up just 2.5 percent.

"Most retailers would have killed for a 2.5-percent increase, and it was one of our lower years," Kramer said.

With the addition of 22 stores, and relocation of another 10, retail sales have nearly doubled since 2005.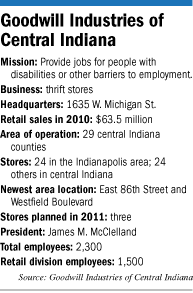 Goodwill Industries of Central Indiana, which covers 29 counties, now has 48 stores and deep-discount outlets. Two dozen of those are in Indianapolis and surrounding suburbs.

The central Indiana Goodwill chapter is among the five largest in the nation.

Antiques hunter Michael Lantz, who lives in Castleton, noticed Goodwill proliferating across the north side.

"I see a lot of people shopping for kids," he said. "At the stores in the suburbs, people get rid of pretty good clothes."

That's the idea behind Goodwill's high-profile locations in places like Carmel and Westfield.

The newest Indianapolis-area store near a Target at East 86th Street and Westfield Boulevard is a perfect example of the sort of affluent neighborhood Goodwill seems to target, said Steve Delaney, a principal at the retail real estate firm Sitehawk.

Strip-center owners welcome Goodwill because the charity upgraded the quality of its buildings, Delaney said. Goodwill typically enters a lease-back agreement with developers, he said.

Goodwill plans to add three stores this year. One will be at East 116th Street at Allisonville Road, and another will be at Stones Crossing Road and State Road 135. The third undisclosed location is under negotiation, Kramer said.

For competitive reasons, Kramer declined to say how much Goodwill spends on new stores. Each store must generate enough revenue to cover its overhead within two years, and all the new locations have hit that target, he said.

Goodwill hires experienced personnel to manage stores and man the cash registers. Kramer himself came to Goodwill eight years ago after overseeing regional operations for Sam's Club and Kmart.

The upshot of all the expansion is simply more jobs for people who face barriers to the competitive market, Vice President of Marketing Cindy Graham said.

Goodwill employs people with disabilities, low education and criminal convictions. About 1,500 of its 2,300 employees work in the retail division. Others work in Goodwill's Commercial Services Division, which contracts with private firms and government. (Goodwill also runs Metropolitan High School and the Excel Center, which provides education to adults pursuing their high school diplomas, through a separate division.)

Retail sales, which include e-commerce and auctioned vehicles, covered 93 percent of the organization's $63.2 million in expenses in 2009.

In Goodwill's latest internal marketing study, customers didn't list any other thrift stores among the places they most often buy women's and kids' clothing, Graham said. In those core categories, Goodwill ranked as high as Walmart and Kohl's.

Graham said Goodwill realized some time ago that its customers shopped other discount retailers.

"We certainly know the retail dollars are retail dollars," he said.

Durham, the Thrifty Threads manager, thinks consumers' turn toward frugality during the recession will have a lasting benefit for charity thrift stores.

"If you go to a Goodwill and have a good experience, you're more apt to shop a consignment or thrift store in the future," she said.•