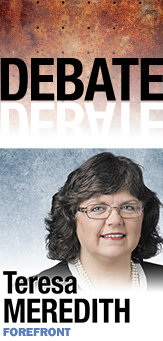 Question: What, if any, role should collective bargaining play in education?

Answer: Recent reform measures—aimed at blaming teachers' unions for all that ails public schools—claim that negotiated agreements are a large part of student achievement problems. Yet research shows that Indiana students fare better in school corporations where teachers have the right to collectively bargain.

In 1935, our country's National Labor Relations Act gave employees the right to organize and, since 1973, public school educators have had the right to bargain in the state of Indiana.

Collective bargaining is an orderly process that allows educators and state administrators to negotiate labor agreements and resolve conflicts resulting in mutually-agreed-to "contracts." Collective bargaining provides benefits to teachers, administrators and students.

For teachers, collective bargaining:

• Offers a process by which teachers can express their professional opinions about what is best for students without fear of retribution, and allows teachers a voice in what is really happening in the classroom.

• Includes teachers in the decision-making process to provide quality instruction for all students.

• Allows teachers to be compensated as well as resources allow, standardizing pay and benefits to prevent favoritism.

For administrators, collective bargaining:

• Offers a way for the work environment to be defined in a consistent manner across a school corporation.

• Offers a checks-and-balances mechanism in the health and well-being of the school corporation and forces transparency in the finances of the corporation.

• Allows the school board to be a part of the negotiation procedure. Teachers have never had contract language or benefits without agreement from the school board.

• Helps secure a prompt and fair settlement of grievances and allows issues to be resolved at the bargaining level.

For students, collective bargaining:

• Allows teachers to speak out and seek services for their students. Classroom teachers are much more connected with the real day-to-day needs of students.
IBJ.COM EXTRA
Click here
to read David Harris' viewpoint on this question.
• Provides incentive for teachers to continue to strengthen their skill sets and knowledge of their subject matter when contracts offer additional merit compensation for leadership roles and continuing education.

• Helps teachers address better learning conditions for students such as class size and special education procedures.

Reform efforts dispute the attributes of collective bargaining, but a recent study by Matthew DiCarlo, a senior fellow at the Albert Shanker Institute, references the achievement outcomes in states without union contracts.

There are 10 states in the country in which there are no legally binding K-12 teacher contracts. These states are largely free of the alleged "negative union effects." Reformers would like to show that the achievement levels in these states outrank their union contract states.

But the 2009 data from the National Assessment of Education Progress show otherwise. The states in which no teachers are covered under binding agreements score lower than the states that have them. Reports show that those states are among the lowest in the nation.

In Indiana, many of the best-performing school districts are those that have had collective bargaining rights for educators for years. The 20 top-performing schools based on last year's ISTEP results are all in systems where teachers and administrators collectively work together under the guidance of Public Law 217.

Collective bargaining is not the answer to every education issue in Indiana, but teachers are professionals and collective bargaining assures some level of professional compensation for teachers, some level of balance for administrators, and certainly offers a stronger voice for the more than 1 million public school students across Indiana.•

____________
Meredith is vice president of the Indiana State Teachers Association and has taught for more than 18 years in Indiana schools. Send comments on this column to ibjedit@ibj.com.