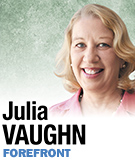 When the Indiana General Assembly reconvened earlier this month, legislators were greeted by a huge cadre of lobbyists all wanting the same thing: their attention and support for whatever issue the lobbyist is pushing. While legislators and lobbyists are playing under slightly different rules this year because of the 2010 passage of the heralded ethics reform package, in reality the new law doesn't do much to curb the growing influence of lobbyists.
Don't get me wrong. Common Cause/Indiana supported the reform legislation and publicly recognized it as a positive step forward. But the bill's most important provision, the one-year cooling-off period before a legislator can become a paid lobbyist, hasn't even kicked in yet. Expect more legislators to take a trip through the revolving door into the lobbying ranks before the law takes effect at the end of this year.
The other changes made last year won't stop lobbyists from being able to cozy up with legislators by treating them to breakfast, lunch, dinner and drinks, with trips to college and professional sporting events, the racetrack, casinos or cultural events (unless the trips are out of state). The new law simply continues Indiana's disclosure-based regulatory process, but fails to address the growing influence of well-connected and well-funded special interests on the legislative and political process in Indiana.
And even though the new law reduces to $50 from $100 the amount at which lobbyists must disclose the gifts, meals and entertainment they provide, these reports will still be made public after the Legislature has adjourned, making the information much less useful to the public. To truly shine a bright light on any questionable relationships between lobbyists and legislators, expenditure reporting should be timely and frequent, standards that Indiana's law fails to meet.
Another glaring problem with the legislative lobbying law is that it continues to stand in sharp contrast to Indiana's executive branch lobbying statute, which prohibits lobbyists from giving gifts to members of the executive branch. If it is appropriate to ban gifts for the executive branch, it is even more appropriate to ban handouts to legislators, since lobbyists have even more incentive to give lavishly to those who make the laws.
If the goal is to remove any appearance of impropriety and improve public trust, disclosure-only just doesn't get the job done. A legislative gift ban is overdue and lobbying reform will remain unfinished until it is implemented. Unfortunately, that's not likely to happen this year.
Some reforms that would reduce the influence of well-funded lobbying groups don't involve making changes to the lobbying and legislative ethics statute at all, but instead change the way candidates raise money. Increasingly, interest groups get their way with the one-two punch of campaign contributions followed by lots of money spent lobbying the same folks they helped get elected.
Following the lead of states like Maine, Arizona and Connecticut, Indiana should create a voluntary system of public financing for political campaigns to allow candidates access to funding that will allow them to take office unencumbered by IOUs to their campaign contributors, who often happen to be lobbyists.
Another way lobbyists exercise significant influence over the legislative process is by becoming a legislator's exclusive source of information, since the General Assembly has no independent entity like the Congressional Research Office to provide unadulterated research and objective information for legislative review.
To help fill the information void, the General Assembly should preferably create an independent research office as a part of the Legislative Services Agency, and at a minimum provide each legislator with a dedicated legislative assistant who could perform such tasks.
While the legislative leadership should be commended for getting the ethics reform ball rolling last year, Indiana has a long way to go before we've got a system that instills public confidence and protects the public trust. The General Assembly should keep on task and continue working on lobbying reform.•
____________
Vaughn is policy director for Common Cause/Indiana, a nonpartisan citizens lobbying organization that works for open, honest and accountable government. Send comments on this column to ibjedit@ibj.com.
Please enable JavaScript to view this content.