Indiana's dozen ethanol plants may struggle to find buyers of their corn-based fuel down the road.
The country simply won't be able to consume more ethanol than is currently being produced, said Wally Tyner, a professor of agricultural economics at Purdue University.
Tyner just completed a study published in the American Journal of Agricultural Economics that concludes the United States is at the "blending wall," or the saturation point, for ethanol use.
His findings don't bode well for expectations under the federal Renewable Fuel Standard, which requires increasing renewable fuel production to 36 billion gallons by 2022.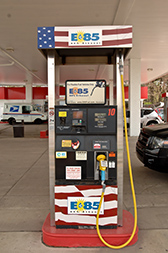 Indiana has 167 pumps dispensing E85 ethanol, according to the state's Office of Energy Development. (IBJ File Photo)
Last year, 13 billion gallons were required—an amount Tyner concluded is the limit for consumption based on current infrastructure. Not only are there not enough flex-fuel vehicles that can burn the 85-percent ethanol blend, but there aren't enough pumps out there.
"Even if you could produce a whole bunch of E85, there is no way to distribute it … . We would need to install about 2,000 pumps per year through 2022 to do it."
Last year, federal regulators, in an effort to increase ethanol use, OK'd the blending of additional ethanol into ordinary gasoline for vehicles 2007 and newer: to 15 percent from the current 10 percent. But gasoline stations aren't likely to make the expensive investment in new pumps to handle the more corrosive mixture anytime soon.
Last month, the Association of International Automobile Manufacturers filed suit in the U.S. Court of Appeals for the District of Columbia in an attempt to block the higher concentration. The automaker group, along with boat and power-equipment makers, has warned that the higher concentration for non-85 vehicles could harm engines. However, it's worth noting the AIAM trade group consists mostly of Japanese and Korean automakers, which have not built as many E85-capable vehicles as have American-based automakers.
Please enable JavaScript to view this content.