DALLAS—Members of Indianapolis' 2012 Super Bowl host committee spent most of Tuesday and the early part of Wednesday on their visit to Dallas answering questions about Indiana's weather and downtown amenities in Indianapolis.

In the midst of a massive storm that gripped a huge swath of the nation—including Dallas and Indianapolis—committee members speaking at the Super Bowl media center didn't dodge questions concerning central Indiana's winter weather and what problems it might present when Indianapolis hosts next year's Super Bowl.

In fact, Bill Benner, one of the committee members, said organizers have "embraced" the questions about what Indianapolis would do to run the Super Bowl smoothly even in bad weather.

Benner stood smiling Wednesday morning as he pointed to a sign adorned with one of the host committee's slogans unveiled this week in Dallas: "Get your winter on! It's cool."

That's not all the Indianapolis committee is rolling out. In addition to showing off the homemade scarves from the city's Super Scarves program and a line of winter hats bearing the 2012 Indianapolis Super Bowl logo, the committee on Wednesday is having a special promotion featuring Indiana-grown popcorn. Later this week, St. Elmo's Steakhouse is shipping in shrimp cocktail for the media contingent in Dallas to sample.

"Shrimp cocktail? That doesn't sound very much like Indianapolis," said one reporter meandering through Indianapolis' booth. That gave host committee member Julia Watson an opportunity to launch into an explanation of the locally famous downtown steakhouse and other Indianapolis amenities.

Three cities are allowed to have booths in the massive Super Bowl media center—the current year's host and the cities that will host the next two Super Bowls. This year, Dallas, Indianapolis and New Orleans have booths right inside the media center entrance.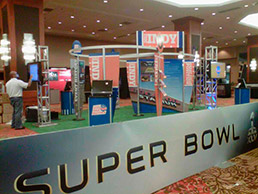 Indianapolis' booth at the Super Bowl media center in Dallas.(Photo Courtesy Indianapolis Host Committee)
Winter weather has been the topic of the week so far, and Indianapolis' host committee has gotten a bird's eye view of how to handle—and not handle—ice and snow during Super Bowl week.

Dallas has been roundly criticized for using only sand and not salt on the streets, and for the closing of the Dallas-Fort Worth Airport for the better part of Tuesday as hundreds of media members and thousands of other people tried to get to Dallas in advance of Sunday's big game .

"Every weather situation provides a learning opportunity for us," said Indianapolis 2012 Host Committee spokeswoman Dianna Boyce. "We've been looking at a lot of things down here."

While not criticizing the way Dallas handled the storm, Boyce said she was confident Indianapolis could handle foul weather better than residents of the Lone Star state.

"It's a different environment in North Texas," Boyce said. "We are used to continuous winter weather during this time of year in Indianapolis. We have the people and equipment in place to handle this type of situation."

Winds howled across Dallas on Tuesday and more than an inch of ice covered the streets along a 20-plus-mile path connecting the airport, Texas Stadium and downtown Dallas. In places, the road was not visible at all, and only a small amount of sand was spread on the roads to combat the situation.

While media shuttles ran a bit slower than normal Tuesday, Boyce said transportation from downtown Dallas to Texas Stadium for media day was "smooth." An Indianapolis television news crew, however, reported that the 20-mile drive took two hours.

Local committee members were keen to see how media day was hosted at Texas Stadium, designed by Dallas-based HKS—the same architecture firm that brought Lucas Oil Stadium to life.

Indianapolis host committee member John Dedman said though he was impressed by the massive Texas Stadium, he has little doubt Lucas Oil Stadium will measure up nicely next year. While the National Football League largely handles media day events, Dedman said host committee members attending Tuesday's event got valuable insight on how and where to hold media day events in Indianapolis.

"There are a lot of things to look at, anything from media work stations during media day to how to handle things for the hour or so when one team exits media day and the next team arrives," said Dedman, who also works for the Indiana Sports Corp.

Back in the warmer confines of the media center in downtown Dallas, more than 300 media members came through the Indianapolis host committee booth Tuesday. Dedman said committee members expect close to 5,000 credentialed media to visit and ask questions by the end of this week.

Committee members arrived in Dallas on Saturday to begin putting together the booth, which was designed by Indianapolis-based Sport Graphics.

Last year, several media members at the 2010 Super Bowl in Miami criticized Indianapolis' booth as somewhat underwhelming. But, so far this year, the response has been positive.

In addition to touch-screen displays showing off the city's amenities, a large diagram of downtown's connectivity proved especially popular. Other displays highlighted the city's cultural districts and Lucas Oil Stadium.

"Most of the people coming through are sports writers, and they know and love Indianapolis," Benner said. "They've been there for Colts games, Final Fours, the Indianapolis 500 or other sports events, and they know what this city has to offer and how they host an event."