DALLAS—It looks like Indianapolis-based printing and sign-making firm Sport Graphics has more trucks driving around North Texas this week than it does in its hometown.
But the deal CEO Frank Hancock signed with the National Football League to help design, make and install all 300-plus signs for this year's Super Bowl in Dallas is no laughing matter. It's the first time the league has signed on one company to do all of its Super Bowl sign work.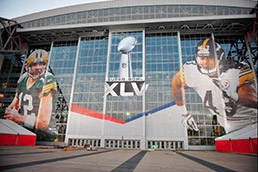 Sport Graphics designed, made and installed the massive signs hanging from Texas Stadium. (Photo courtesy NFL)
"No doubt, this is our biggest deal," said Hancock. "By far."
He declined to provide specifics, classifying the deal only as a "six-figure" piece of business that is "significantly" larger than Sport Graphic's agreement to handle signage for the NCAA Final Four. Sources close to the league said the contract could easily be in excess of $250,000.
And the scope of the Super Bowl project goes far beyond what it means for the firm financially.
"It's massively bigger than even I thought in terms of implementation and parts," Hancock said.
NFL spokesman Greg Aiello said league officials have been pleased with the look of the signs and the efficiency of using one company to do it all.
"[The signs] have a very good look and feel," Aiello said.
It's far from Sport Graphics only coup of 2011.
"We're doing the Super Bowl this month, followed by the men's Final Four in Houston and the women's Final Four in Indianapolis," Hancock said. "That's a pretty good first quarter."
And it doesn't end there. Sport Graphics already has extended its exclusive Super Bowl deal to handle signage at next year's big game in Indianapolis.
"It's going to be great to work with a company in our own back yard," said Brad Carlson, vice president of the 2012 Super Bowl Host Committee, who is in Dallas this week. "Sport Graphics certainly has the experience to handle this, and we think they're really going to help with the overall look."
"It's going to be awesome in Indianapolis," Hancock said. "You won't believe what [the NFL and local organizing committee] are going to do there. I think it will really be spectacular."
Right now, though, Hancock and his staff are focused on this year's Super Bowl.
Hancock plans to jet into Dallas on Friday, but about 30 Sport Graphic employees have been on the ground in Texas for several weeks.
Sport Graphics workers have spent the last 10 days putting up signage noting the AFC and NFC champs, including two team-specific signs that stretch more than 20 stories and hang from Texas Stadium. Employees also have been busy this week installing numerous event and party signs.
Dallas' ice storm and strong winds have caused them a few additional headaches.
Some signs have been blown down and needed repairs, and Hancock had to deploy a van full of goods that was supposed to be shipped by air but got delayed too long by harsh winter weather stretching from Indianapolis to Dallas. Hancock said the van drove through the night Wednesday to arrive in Dallas early Thursday.
But he's not complaining.
"Sports, and in turn sporting events, by their nature are turbulent," Hancock said. "Things change. Things happen. That's one of the things we love about it."
Sport Graphics, which has done work for the Indiana Pacers, Indianapolis Colts, NCAA and several area colleges for a number of years, first caught the eye of NFL officials in 2007 when the company signed a smaller contract to handle signage at the NFL Combine at the RCA Dome.
"They've become a proven partner," NFL's Aiello said.
If it wasn't for a tornado in 2002 that destroyed a good portion of Sport Graphics' facilities on Indianapolis' east side, Hancock said the firm likely wouldn't be in position to take on projects such as the Super Bowl.
After the tornado, Hancock said he decided to shift Sport Graphics' focus from printing to sign making. That decision proved wise, as the company has doubled its annual revenue to more than $25 million, Hancock said.
In 2002, printing accounted for 99 percent of Sport Graphic's revenue, he added. Now it's less than 40 percent.
"Ten years ago, I would have never thought it was possible that we could do this kind of work," Hancock said. "We could see a lot of our printing work was moving online, so we thought about where our company was headed, and we took a leap.
"I have to give companies like the Pacers and NCAA a lot of credit for allowing us to show what we could do."
Sport Graphics is the fourth-largest sign company in the Indianapolis area, according to IBJ research, and the fourth-largest commercial printer.
Please enable JavaScript to view this content.