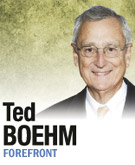 Last month, I commented on the unique Marion County process for "electing" judges in an election nobody loses. I omitted one of the problems with electing judges, whether in Marion County's predetermined election or in a truly contested one.

Elections work best when we have an informed electorate who knows the candidates and has some basis for evaluating them, whether on the basis of stated positions or value systems or experience and ability.

So it makes sense to elect presidents, governors, mayors, and federal and state legislators. These are all posts where policy-making is important and where we want the public to be able to effect changes.

But when it comes to offices further down the ballot, few citizens know who the candidates are or their qualifications for office.

More important, positions such as assessor, auditor and treasurer of local government units are essentially professional jobs with minimal policy content unless you view efficiency and modernization as policy. We are not well served by high turnover in these offices, nor is the electoral process designed to evaluate the competence of the candidates.

I'd be surprised if many of you would be pleased to hear that the surgeon chosen to address your brain cancer had been selected by a majority vote of the voters of your county or township. Assessing real estate and managing millions of dollars of cash flow are not brain surgery. But certainly not every citizen is prepared by education and experience to handle those roles competently.

If we let the leaders of the executive branch of government select their team of professionals, we have a more coherent governmental team. More important, we get accountability to an elected leader for performance that is inept or worse. And the appointing officials—governors, mayors in cities, and county commissioners in less populated areas—are ultimately accountable to the electorate because their races have some visibility, and the public can hold them responsible for the performance of their appointees.

There is a further benefit to appointment versus election to positions that do not attract the public's attention. There is no vetting process in an election. Anyone can run for office, and there is little practical means for the public to become informed as to the integrity or ability of candidates for positions that do not attract media attention.

The result is an occasional really bad apple. My poster candidates are the two Pennsylvania trial judges who were taking kickbacks from foster care providers to place kids when no placement was appropriate. It's hard to imagine a more disgusting breach of public faith. And it's no accident that these two were elected.

Anyone who would sell kids will likely have done some things in previous careers that would raise some alarm bells in an appointing official who routinely does some background checking. So I suggest it's far less likely they would have been appointed to the bench.

A recent study by the American Judicature Society confirms the intuition that there may be a correlation between judicial corruption and selection by election. The point is not limited to judges, however. It applies to any office where there are so many posts to be filled that the public's attention is diluted, or the office is below the public's radar and generates little attention from the media or the general public.

We are currently engaged in a debate over whether units of local government, specifically townships, are efficient or justifiable in the modern world of Internet and interstate highways.

In the course of consolidating and modernizing our horse-and-buggy local government structure, we should design the process for selecting officials to focus accountability and responsibility on the relatively few officials whom the public knows and chooses, and hold them responsible for the actions of their appointees.•

__________

Boehm is a retired Indiana Supreme Court justice who previously held senior corporate legal positions and helped launch amateur sports initiatives in Indianapolis. Send comments on this column to ibjedit@ibj.com.