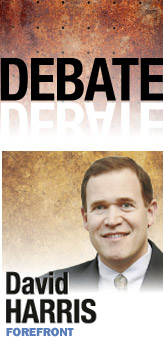 Question: How should teachers be evaluated?

Answer: The most powerful truth in education is also the most intuitive: Teachers are everything. As President Obama recently noted, "From the moment students enter a school, the most important factor in their success is not the color of their skin or the income of their parents, it's the person standing at the front of the classroom."

Researchers have shown that different teachers have different effects on the learning outcomes of similar students. For example, the University of North Carolina's William Sanders and Stanford University's Eric Hanushek have found that assigning disadvantaged students to the best teachers for three years in a row actually compensates for the negative effects of poverty on those students' test scores.

Put simply, great teachers close the achievement gap.

But a new report by The New Teacher Project (TNTP)—a national education not-for-profit brought to Indianapolis with support from The Mind Trust—has found that school districts do a poor job evaluating teachers and ensuring that all children have effective teachers.

As I noted last month, some Indiana districts evaluate teachers only once every three years. That's troublesome because the less feedback teachers get, the less opportunity they have to improve. What's worse, 99 percent of Hoosier teachers are rated effective, despite the achievement gaps and high dropout rates in many districts.

Everyone's child may be above average in Garrison Keillor's fictional Lake Wobegone, but here in Indiana we need to do more to ensure that evaluations reflect teachers' impact on student learning.

Evaluations are important because research has shown that a teacher's past performance is the most powerful indicator of future effectiveness. Districts need to identify their most and least effective teachers so they can reward the great ones and help others improve or exit the profession.

So what should districts do to improve evaluations? In Teacher Evaluation 2.0, TNTP argues that teachers should be evaluated annually, and that evaluations should be based on "clear standards of instructional excellence that prioritize student learning."
No one thinks student test scores should be the only factor in evaluations, but when we have data about a teacher's impact on student academic growth—like the data from the Indiana Department of Education's new Growth Model—it should be one of the multiple measures included in evaluations.
Additionally, TNTP urges that evaluations employ several rating levels so teachers fall along a clear spectrum of effectiveness. No longer can we have evaluation systems that treat teachers like interchangeable widgets.

Last, and most important, evaluations should be helpful to teachers. As the report notes, "good evaluations identify excellent teachers and help teachers of all skill levels understand how they can improve." That means evaluators must spend more time observing classes and working with teachers to analyze evaluations, interpret student data and improve their practice.

How we develop the next generation of teacher evaluation tools will have a big impact on who enters—and stays in—the profession. As U.S. Secretary of Education Arne Duncan recently said, "I am convinced that our ability to attract, and more importantly, retain, great talent over the next five years will shape public education for the next 30 years."

By identifying effective teachers and rewarding them for their impact, we can strengthen the teaching profession and make teaching a more attractive career path. With a more robust evaluation system, teachers will receive better, more frequent feedback, districts will have a greater understanding of their teachers' impact on student learning, and parents will have more confidence in the effectiveness of their children's teachers.•

__________

Harris is CEO of The Mind Trust, a not-for-profit supporting entrepreneurial education initiatives. Send comments on this column to ibjedit@ibj.com.