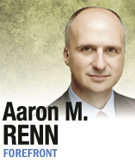 As I write this, Illinois' Legislature has reportedly reached a deal to raise that state's income tax 75 percent, to 5.25 percent, and to hike the corporate tax rate as well, giving Illinois the highest combined federal-state corporate tax in the industrialized world. Without question, this would be good news for Indiana, as people and businesses accelerate their exodus from the Land of Lincoln for lower tax and more business-friendly locales like Indiana.
But to gloat too much over Illinois' self-inflicted wounds would be to miss the big picture about the competitive world Indiana is in.
Indiana unquestionably has lower costs of doing business, a more business-friendly environment and a stronger fiscal situation than most regional states. In Indiana, people look around and see themselves surrounded by places like Illinois, Ohio and Michigan. Understandably, they can be tempted to say to themselves, "I know how we're going to beat these guys."
This can lead to a default strategy of, "I don't have to outrun the bear, I just have to outrun you." That is, Indiana can bank on a certain amount of inward investment coming to this region, and it just has to position itself in the best place to capture an outsized share of it, plus people who are willing to move over a border from a nearby state to take advantage of what Indiana has to offer.
There's nothing wrong with this to some extent. But Indiana can't survive on beggar-thy-neighbor economic development alone. It's not enough merely to be the best house on a bad block.
For one thing, it's in Indiana's interest to want to see these other places get their acts together. Right now, the Midwest generally is not high on investors' radar, and until regional stereotypes abate, that's going to hurt Indiana's recruitment.
Beyond that, Indiana no longer competes against purely regional players in a regional economy. Indiana's competition is global. Business and people can now almost literally go anywhere.
A lot of the Indiana advantage versus regional competition comes from lower taxes and costs. But if you look at the global competition, it is easy to see that, with overseas labor at pennies an hour, along with weak regulations in many cases, Indiana is just simply not going to be cost-competitive compared with places like China or India. Indiana might find itself with a bigger piece of a shrinking pie. The fact that it outperforms Michigan would be a meager consolation.
Also, when you compete based on cost, almost by definition you attract people and businesses that are cost-sensitive. These tend to be low-margin businesses or those in brutally competitive commodity markets. If they are sensitive to marginal costs, that means they are probably also stingy with wages.
Indiana might end up attracting mostly lower-end businesses.
Indeed, if you look at the numbers, Indiana has trailed the nation in increasing its economic output. Even on a per-capita basis, its real output per person grew by only a bit over half of the U.S. rate over the last decade. Hoosier workers now generate only 89 percent as much output as the average American worker.
Incomes tell a similar tale as Hoosier incomes trailed the nation during the 2000s, slipping from a per-capita income of 91 percent of the U.S. average in 2000 to only 86 percent in 2009.
For Indiana to be successful in the longer term, it needs to be a strong competitor not just regionally, but globally. And while fiscal prudence will never go out of style, Indiana also has to be able to compete on more than just cost, attracting higher-end and higher-paying businesses that locate in the state for product as much as price.
Illinois may be content to tax itself into oblivion, but just because Indiana has taken care of fiscal business, it still has plenty more work to do.•
__________
Renn is a former Indianapolis resident now living in Chicago who writes the Urbanophile blog, one of the nation's leading urban policy websites. Send comments on this column to ibjedit@ibj.com.
Please enable JavaScript to view this content.