In a move to shore up American Legion's bottom line, the organization is holding back thousands of new members—along with their dues—from state affiliates.

The national headquarters in Indianapolis recruited 210,000 members last year through direct mail, but it will not share those names with state offices, called "departments," until after the veterans renew their memberships.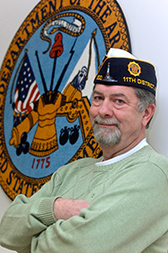 Mark Gullion is commander of the Indianapolis district of American Legion. (IBJ Photo/ Perry Reichanadter)
"The members who are recruited by mail are basically put behind a firewall," said Hugh Dagley, assistant adjutant for the Indiana affiliate.

The new policy cuts into revenue that used to flow to the state level, but top national executives believe it will boost retention rates, which benefits American Legion as a whole. After direct-mail recruits renew their memberships, they'll be assigned to one of 14,000 local posts, where retention rates are as high as 90 percent, said Jack Querfeld, director of internal affairs at American Legion headquarters.

"Our drive is to get them into a local post," Querfeld said. "We are a community-based organization. That's where our strength is."

In the interim, Querfeld said, American Legion will stay in touch through newsletters and e-mail. And if veterans want to join a local post right away, headquarters will make sure they can do that.

The policy is one way to compensate for the fundamental problem of declining membership. American Legion has 2.4 million members, about 360,000 fewer than it had when the Iraq war started in 2003.

American Legion is open to anyone who has served at least one day of active duty during a specified wartime. The current era spans from Aug. 2, 1990, to the present.

With more than 2 million service members deployed since Sept. 11, 2001, the wars in Iraq and Afghanistan made a whole new generation eligible for membership. Still, there aren't enough of the modern veterans to offset the loss of American Legion's base in the World War II generation.

So many of those vets have died that, in eight years, they went from representing 40 percent of the membership to 18 percent, Querfeld noted.

Vietnam vets are now the Legion's single-largest group, accounting for 44 percent of members.

The nation's largest veterans' group, American Legion draws political as well as financial strength from its members. The Legion's Washington, D.C., office lobbies on issues such as treatment of brain injury and post-traumatic stress syndrome. The departments employ service representatives who navigate the Veterans Administration.

The peak of Legion membership was 3.3 million in 1946, not long after it wrote and pushed through the first G.I. Bill.

Like most fraternal clubs, American Legion is on the wane, Harvard University sociologist Theda Skocpol said. Though it won't likely regain its post-World War II strength, she said, "I don't expect the American Legion to go belly-up."

Chain of command

Each level of American Legion's military-like structure slices off a piece of a member's dues.

Most dues pass up the chain of command from local post to department to national headquarters. If a member pays $35, which is the average in Indiana, the post keeps $8, and state and national offices split the remaining $27, Dagley said.

When multiplied by millions, those small amounts generate a hefty stream of cash. The national organization raised $31.9 million, or nearly 61 percent of its income, from dues in 2009.

The order is reversed when the national office recruits new members. In those cases, headquarters keeps the whole sign-up fee of $25. And under the new policy, headquarters keeps dues paid upon the first renewal, too.

"Basically, our direct mail program is not costing national anything," Querfeld said.

That's significant, considering American Legion spent $6.5 million on direct mail in 2009, and that accounted for 14 percent of its $46.4 million in expenses, the organization's annual tax return shows.

Last year, headquarters ramped up its mailings to 10 million pieces and brought in 210,000 new members, Querfeld said. Under the old system, those members would have been turned over to state departments for assignment to local posts.

In practice, Querfeld said, many of those new recruits lingered on the rolls at the state-level offices, which collected their full dues. Half of them ended up quitting because they weren't socializing or taking part in community service at a local post, he said.

"The departments were very, very bad at retaining members the national headquarters spent money to recruit," Dagley admitted. "Indiana was not one of them, once we cracked the code," he added.

Dagley thinks the root of the problem is that local posts resist accepting members recruited through direct mail because the national office doesn't verify eligibility. That's the job of the local posts.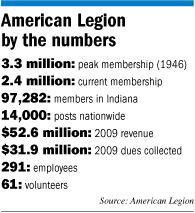 "They see a different standard for the national organization," he said.

The Indiana department overcame local resistance by setting up an eligibility-verification task force in each district. The retention rate went from 40 percent to 70 percent, Dagley said.

The new policy on direct-mail recruits went into effect for the 12 months that ended in June 2010, so Legion leaders don't have a full picture of how well headquarters retains members. Querfeld expects at least 55 percent, which is the average at the state level.

Dagley worries that direct-mail recruits won't renew if their only contact for a year is the national office.

"Sometimes, the changes that look good over there don't look so good here," said Dagley, whose office sits just across the War Memorial Plaza from American Legion's downtown headquarters.

Generation gap

Indianapolis District Commander Mark Gullion's friends tease him about all the meetings he has to attend at Legion posts—they say it's a cover for drinking.

Gullion would like to overcome that reputation.

"The American Legion is about the four pillars of community service, working with the veterans," he said, referring to the Legion's four-point mission of national security, care for veterans, mentoring youth and patriotism. "It's our fault we don't get that word out."

Bars are part of what makes American Legion posts the hub of social activity in small towns, and it's no coincidence, the struggle for membership isn't as great in rural areas.

In cities, though, American Legion is just another of myriad ways veterans can spend their time. District leaders like Gullion work diligently to hit recruiting targets suggested by the national office, but in the end, posts just aren't a huge source of new members, Querfeld said. Altogether, they net about 90,000 new members a year, he said.

One obvious source of new recruits is the thousands of full-time and part-time service members coming home from Iraq and Afghanistan.

Gullion hopes to reach more of them through student veterans' organizations at IUPUI and Ivy Tech. His primary goal is service—helping veterans get their benefits under the new G.I. Bill and addressing issues like the suicide rate.

"Some veteran groups were forgotten, and we don't want to forget the heroes of today," said Gullion, a 58-year-old Vietnam War veteran.

College campuses are the most logical place for any veterans group to find recruits, said Stacie Hitt, director of Operation Diploma at Purdue University's Military Families Institute.

"Eighty percent of people who enlist tell us they do so because of the educational benefits," she said.

Even if the modern veterans don't join, Hitt said, "Those members of the American Legion could really be powerful mentors."

The relationship between Indianapolis Legion posts and local campuses is in its infancy, but John Newton, president of the student veterans at IUPUI, thinks it's just what his group needs. The organization is forming an honor society, and Post 500 in Speedway, which is active in Habitat for Humanity, could help the students meet their community-service requirements, he said.

Newton, a 25-year-old Army Reservist, had never visited a Legion post until he spoke at Post 500 last summer. The Legion and Veterans of Foreign Wars had representatives at Camp Atterbury in Edinburgh when he came home from Iraq in 2007, but after a long day of Army demobilization procedures, he didn't listen closely to their pitches.

Newton said he figured he would join a veterans' club after his service ends.

"That's where you go when your story's over," he said. "That's when you go for the camaraderie."•