Every year, there's something new and/or improved at attractions throughout Indiana. Here's a rundown of just some of the changes you'll find as you explore options for an in-state getaway.
• The Wayne County Chocolate Trail is a new, self-guided tour that includes samples. You can pick up a passport and chocolate Trail Bucks at the Old National Road Welcome Center in Richmond. Stops include Ghyslain Chocolatier & Bistro and Abbott's Candy. Details at www.visitrichmond.org.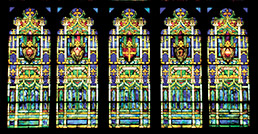 Tiffany Stained Glass Tour (Photo Courtesy Richmond/?Wayne County CVB )
• Richmond is also host to the Tiffany Stained Glass Tour, showcasing windows at four sites within a five-block area. Included is Reid Memorial Presbyterian Church, featuring 62 windows designed by the Tiffany studio. Find out more at www.visitrichmond.org.  
• There's a new winery at McClure's Orchard in Peru. Just be careful of that hard cider if you are planning on hitting the road. Instead, consider sticking around for dinner at the Apple Dumplin' Inn. Info at www.mccluresorchard.com.
• Always tinkering, Holiday World and Splashin' Safari amusement park will be adding Safari Sam's SplashLand, featuring eight body slides for small children and a wading pool with plenty to play with. There's also a new Rudolph's Round-Up ride in the Christmas area of the park. Info at www.holidayworld.com.
• The Spirit of Jasper Train will be adding additional trips in Dubois County. Details at www.spiritofjasper.com.  
• Indiana Beach is in the midst of a major restoration project. High school students participating in Tom Sawyer Day in April will help repaint the park fence and walls. New events include a Cinco de Mayo party and Thursday night jazz events. Details and schedule at www.indianabeach.com.
• It's the 200th anniversary of the Battle of Tippecanoe, and the Tippecanoe Battlefield Museum, Prophetstown State Park and Historic Prophetstown will be the epicenters for activities, including an exhibition of artwork by George Winter, a recreated 1812-era encampment, and trolleys pulled by Belgian horses. Look for more details, as they develop, at www.tcha.mus.in.us.
• In Elkhart, the Lerner Theater is reopening after a two-year renovation. It will serve as an anchor for the Elkhart Jazz Festival and will also feature entertainers throughout the year. Premier Arts, the resident theatre of the Lerner, features shows throughout the year.  Details at www.thelerner.com. Also in Elkhart, new gardens have been added to the Quilt Gardens Tour on the Heritage Trail. Details at www.amishcountry.org/QuiltGardens.
——————–
When we say travel here at IBJ, we are usually indicating going beyond central Indiana. But for many, a getaway may mean heading toward the heart of the state. And there's lots that's new and different in Indy and the contiguous counties.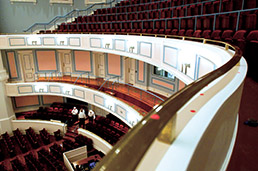 Center for the Performing Arts in Carmel (IBJ file photo)
• The big news in arts and entertainment has been the Center for the Performing Arts in Carmel, housing the Palladium concert hall and two additional theaters. This year, the center becomes the home for such resident companies as the Carmel Symphony Orchestra, Booth Tarkington Civic Theatre (formerly known as Indianapolis Civic Theatre), Gregory Hancock Dance Theatre and more. Headline acts still to come at the Palladium include Joshua Bell and the Indianapolis Symphony Orchestra (May 5), David Sanborn (May 20), The Cleveland Orchestra (May 22), and Clint Black (June 17). For a full schedule, visit www.thecenterfortheperformingarts.org.
• The Indiana State Fairgrounds hosts the first ever Indiana Artisan Marketplace on April 16-17 offering one-stop shopping for Hoosier creations. Details can be found at www.in.gov/indianaartisan
• Conner Prairie expands to include a new period experience titled 1863 Civil War Journey: Raid on Indiana. It opens in June. More details at www.connerprairie.org.
• Warthogs and Bats both join the menagerie as permanent residents at the Indianapolis Zoo. They will be greeting the public beginning March 18. Details at www.indianapoliszoo.com.
Please enable JavaScript to view this content.