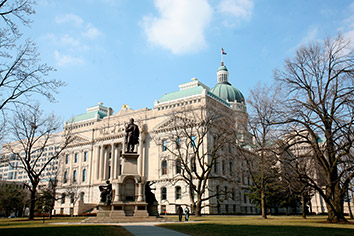 Union supporters shouted "lie" and "shame" at members of a Republican-led Indiana House committee who voted in favor of so-called right-to-work legislation, after impassioned arguments that it was aimed at weakening unions and would drive down wages.
The House Employment, Labor and Pensions Committee voted 8-5 along party lines Monday to send to the full House the bill prohibiting union representation fees from being a condition of employment as is included in the union contracts of some companies.
Dozens of union members packed a small meeting room at the Statehouse for the committee's hearing, with many spilling out into the basement hallway and hundreds of others crowding onto the main floor, denouncing the bill and Republican-backed education proposals. Many held signs with slogans such as "Stop the War on Workers."
Union leaders and members pressed such arguments before the employment committee, saying the bill was part of a national campaign to drive down wages and maximize corporate profits.
Pete Rimsans, executive director of the Indiana State Building & Construction Trades Council union group, said many of the 22 states with similar laws market themselves as places where companies can pay workers less.
"If the bill doesn't lower wages, then why would business want it so bad?" Rimsans said.
Rep. Jerry Torr, R-Carmel, said that consultants for companies looking to expand say at least one-third won't even consider states such as Indiana without right-to-work laws.
"We don't even get a look at those jobs," Torr said. "We're just trying to add that to all the other great things we have going for us."
Democrats on the committee questioned that argument since no such companies were identified, with business group representatives saying confidentiality agreements prevented them from doing so.
"If the business climate is as good as they say it is, the only thing left to offer once right to work is implemented is the decline in wages," said Rep. Dennis Tyler, D-Muncie.
Torr said the bill, which exempts the construction industry unions, wouldn't interfere with unions being able to negotiate with companies or change anything for workers who want to be union members.
"It will make the unions stronger because it will force the union bosses to bargain in the immediate and best interest of all the members so they will keep the membership," Torr said.
The large union turnout was a sign of the contentiousness over the right-to-work legislation — and Republican Gov. Mitch Daniels has said he prefers lawmakers not deal with the issue this session for fear that it could derail other more important bills.
The governor's office declined to comment about the House committee vote on the legislation.
Republican leaders scheduled the hearing for Monday, the deadline for bills to pass out of House committees. The committee heard more than three hours of testimony, but wrapped up with some 60 people who had signed up to speak against the bill not being able to do so.
House Minority Leader Pat Bauer, D-South Bend, declined to say whether the 40 House Democrats might boycott the House in protest of the bill, which would deny the 100-member House a quorum to conduct business.
Bauer faulted Daniels for not stopping Republicans from pushing the right-to-work issue.
"He doesn't want it now — he wants it later," Bauer said. "He's never said he was against this."
Union members joined a teachers union in opposing Daniels' education agenda, including restricting teacher collective bargaining rights, expanding charter schools and implementing vouchers that use taxpayer money to help parents send their children to private schools.
State AFL-CIO President Nancy Guyott told a Statehouse crowd that right-to-work legislation was an assault on the working class and working families.
"Hoosiers are not interested in winning the race to the bottom," she said. "We want to go up."
Kyle Hannon, vice president of the Elkhart Chamber of Commerce, told the committee that the right-to-work bill was an important economic development matter for the northern Indiana city, which has been plagued with double-digit unemployment because of massive layoffs in the RV industry.
"We want a shot at these companies that aren't looking at Indiana," Hannon said. "We want a shot at all of them."
The crowds of union workers waited in long lines during a morning drizzle to get inside the Statehouse. At least a few hundred gathered some eight hours later for a concourse rally that ended with the chant "We'll be back!" and organizers urging members to return to the Statehouse on Tuesday.
Susan Field-Powell, a carpenters union member from Rochdale, said she thought workers were being ignored by state leaders.
"This is just undermining workers' rights and we're vulnerable now as it is," she said. "I think the people that have been speaking the loudest have been those like the chamber of commerce that have been doing a lot of negative campaigning against unions."
Please enable JavaScript to view this content.