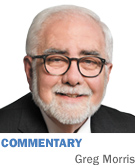 I met with some soon-to-be college graduates last week and the conversation turned to how to find a job after graduation. They were rightly concerned about their prospects of finding a good job and described how many of their friends who graduated last year still have not found anything within their field of study. Many of those young people have moved back home. They are torn between seeking any kind of job to keep busy or hold out for a full-time job that is in keeping with their degree.

I suggested 2011 graduates should have a better go of it than last year's graduates. All indications seem to pointing that direction. 2010 graduates had a slightly easier time finding a job than 2009 graduates. The emphasis is on the word slightly. It's been tough and it will continue to be tough. It's simply a matter of degree at this point.

I recommended that, if they find themselves in a situation where they can't find a job for a while, they should do something while they continue to search. Take any kind of job you can get. Volunteer at church or at a not-for-profit organization. Take a wait-staff job. Take a part-time job. Do something. This will put you in front of other people and that creates opportunities. It also shows a potential future employer that you are a motivated individual and not content to sit around and do nothing.

Here is an example that illustrates my point. A young woman in her early 20s was trying to figure out what she wanted to do with her life several years back. She was educated, smart and a hard worker. She hadn't been able to find the job she was looking for, so she was biding her time working at a restaurant in downtown Indianapolis.

At that time, the media company I was working for had been searching for an advertising account executive. We just couldn't find the person we thought we needed. We were looking for somebody energetic and not afraid to get out and call on new businesses. We needed a "hunter," not just somebody to service existing business.

The sales manager at the time happened to meet this young woman while having a business lunch downtown and took notice that she had personality-plus. She was executing the training she received at the restaurant to perfection and doing a wonderful job of up-selling items on the menu. She made the dining experience enjoyable.

You can guess where I'm going here. The sales manager went back to eat there again and struck up a conversation with her. A few weeks later, he returned. He threw out the idea to her of working at our company, but he wanted to see her fight for the job if she had interest. After all, calling on new prospects and facing a lot of rejection is a tough job.

In the meantime, the sales manager discussed this potential new recruit with me a few times. He was sold and he hired her. She excelled at the company for several years, then left to go to a larger city and came back a few years later.

Now in her early 30s, she continues to be successful at that same company. She has a management position and she's knocking down big bucks, even in this tough economy.

The group of young people I was talking to last week loved that story. It gave them hope and inspiration and allows them to continue their dream of great things to come.

Life can be hard at any age. When you are young and just getting started, I think it is especially tough. As I complete my 20th year at IBJ this week, I appreciate that I have a good job and I try never to take it for granted.

I would love to see our legislators not take their jobs for granted and get back to work and then work together to create a climate that stimulates job growth. They all say that is what they are trying to do, so surely we can find some common ground and move forward.

Too many honest, hard-working Hoosiers need a good job today. Let's give them the best chance possible to make that happen.•

__________

Morris is publisher of IBJ. His column appears every other week. To comment on this column, send e-mail to gmorris@ibj.com.