The opening of the new JW Marriott hotel in downtown Indy (just look over near Victory Field—you can't miss it) brings with it two new restaurants. The sports-focused High Velocity offers upscale bar food in a sleek but friendly space to your left as you enter the lobby. To the right, past the lobby bar, you'll find Osteria Pronto (860-5777).

We'll get to High Velocity sometime when we're ticket-less for a big game. Instead, we opted for lunch at this first-of-its-kind-for-Marriott eatery that promises Italian cuisine "with the right balance of familiarity and subtle innovations."

I started out with the traditional: A bowl of Zuppa Di Fagioli ($6) or Tuscan bean soup (all of the items and sections on the menu are presented in bold Italian and then translated, which helps with things like "IPPOGLOSSO E RISOTTO—Oven-roasted halibut, Arborio rice, olives and artichokes" but seems silly when it comes to PIZZA—pizzas"). No matter how you say it, the soup was delicious, with the kitchen trusting the flavor of the beans and broth without the over clutter in some recipes that can turn this comforting soup into a stew.

We also couldn't resist trying one of the pizzas (that's PIZZA to our Italian friends). Five variations are available, with the Schiacciatina ($11) winning us over with its thin slices of tomatoes,

Italian sausage that you'll want to savor, and hint of garlic and spinach.

I was less enamored with the Spaghetti Vecchio Mondo ($8/$12), featuring so-so pasta and, in the smaller version, a single unexciting meat ball. As a pasta course or side, it may have been fine, but in a place like this, I expected something more memorable. I almost, but didn't, request some red pepper to liven it up.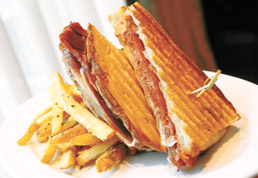 The Tramezzino Panini at the JW Marriott's new restaurant is structurally and flavorfully sound. (IBJ Photo/ Perry Reichanadter)
My guest's choice of the Tramezzino Panini ($12) was a better one. Arriving like an architect's vision of a skyline-worthy sandwich, this variation on the now-familiar grilled sammie featured prosciutto, salami, capicola and fontina cheese. What it lacked in veggies it made up for in quality meats. No supermarket cold cuts here. And the house vinaigrette elevated an otherwise-standard side salad, which stood in for the fries.

Desserts? Well, you are a better person than I if you can resist the prospect of house-made Italian donuts (a steep $6) which, in execution, erred on the side of subtlety, practically evaporating in our mouths with only the hint of powdered sugar as evidence.

In all, a welcome addition to downtown dining—even more welcome since it offers validated parking for those of you who may be a bit too far for your lunchtime stroll. Then again, walking off the pasta and donuts might not be a bad idea.•

—Lou Harry

__________

Last in our month-long series of reviews of new restaurants downtown.