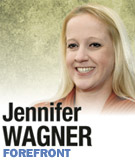 The strangest part for me about moving from Indiana to the Washington, D.C., area wasn't the insane traffic, the incredible scenery or the absence of Hoosier hospitality.

One Sunday evening not long after making the move, I wanted a glass of wine. And being a Democrat with fiscally conservative roots, I didn't want to pay East Coast restaurant prices for my vino.

"Oh, no," I panicked. "It's Sunday, and you can't buy booze on Sundays."

Years of conditioning myself to stock the fridge on Saturday nights had failed. I was destined to quaff Coke Zero with my dinner.

But then I remembered I no longer lived in a state where alcohol sales are incomprehensibly restricted one day per week, so I sashayed over to the 7-Eleven near our condo and picked up a decent bottle of pinot gris. Yes, in Virginia, you can even buy cold beer and wine at convenience stores.

There's much talk this session about changing Indiana's archaic alcohol laws. I'll believe it when I see it.

Legislative change almost always takes time, but we've been stuck in neutral on this issue for far too many years.

What bothers me most about Indiana's alcohol laws is the lack of rational thinking behind them. You can't buy from a retail outlet on a Sunday, but you can order booze 'til they stop serving you at a restaurant or pick up a growler at Rock Bottom. You can buy cold beer and wine at certain stores, but you'd best break out the old "spinning" technique from college if you happen to pick up your six-pack anywhere else.

The battle at the Statehouse always seems to unfold the same way: Some commerce-minded group says it's time to change our laws. Grocery stores agree! In come the liquor store owners, who apparently don't want to be open on Sundays, and before you know it alcohol awareness advocates are telling everyone that lifting restrictions on sales will cause our teen-agers to drive drunk.

Then the whole thing dies for another year because the part-time Legislature goes home.

To be fair, liquor laws in every state are fraught with awkward nuances. There are time, distance and geographic restrictions that boggle the mind. I'll never forget visiting a bourbon distillery in Kentucky where sampling the wares was prohibited, but you could buy a bottle—as long as you took it across the county line to consume it.

The thing is, there's money in those bottles. A state like Indiana, victimized by crafty political accounting over the past six years and hurting as bad as, if not worse than, its neighbors, might be able to harness some extra tax dollars by reducing limits on the sale of alcohol.

Virginia, for example, has state-run liquor stores. You can buy beer and wine practically anywhere, but if you want the hard stuff, you have to go to an ABC retail outlet and pay much-higher-than-average prices. The proceeds go back to the state to the tune of several hundred million dollars a year.

Now, I understand that with the topics like the two-year state budget, redistricting, and education and township reform on the table, it's unlikely this will be the session when Indiana's liquor laws take center stage. Honestly, putting aside my own selfish agenda, that other stuff is way more important.

But at some point soon, I hope our lawmakers can get together and take a common sense approach to this issue that makes sense for consumers and possibly nets some more revenue for our ailing state bank account.

I'm proud to be a Hoosier, and I'll try to remember that I need to stock up the night before a big Colts game, but if you see me some Sunday walking down the beer aisle at Marsh, staring at all the cans and bottles I can't buy, take pity. I'm conditioned to a different system, and going backward may take some adjustment.•

__________

Wagner is a lifelong Indianapolis resident who served as deputy director of public affairs at the National Nuclear Security Administration. Send comments on this column to ibjedit@ibj.com.