The Indianapolis Indians made just short of $1 million in profit in 2010, and early indications are that the team's financials are headed up in 2011.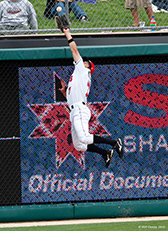 Indians left fielder Kevin Melillo is dwarfed by the team's new high-definition digital billboard. (IBJ Photo/Bill Gentry Indianapolis Indians)
The AAA minor-league baseball team recently hired a new ticket sales management firm, Glitnir Ticketing Inc., and it appears the Hicksville, N.Y.-based firm is going to be busy as the team starts selling single-game tickets this month.

Heading into the home opener April 7, team officials said season-ticket sales are up 7.7 percent over last year and group ticket sales are up 10 percent.

"The Indians have a fantastic front office and really know what they're doing," said Glitnir CEO Gordon Krstacic. "We think we can help them grow even more, and grow right along with them."

The Indians' attendance increased from 549,552 in 2009 to 569,969 in 2010, and team officials think they have a shot at 600,000 this season. Record attendance of 658,250 was scored in 1999.

Glitnir, which replaced Ticketmaster as the Indians' ticket management firm, began selling Indians tickets online March 1. Fans can buy tickets by phone or at the Victory Field box office beginning March 15.
Burleson
Indians General Manager Cal Burleson said the team signed a deal with Glitnir because the firm agreed to charge ticket buyers a lower service fee than Ticketmaster and allow fans to pick specific seats. Ticketmaster allowed fans to select only a "preferred area" for seating, Burleson said.

"We think our customers are going to be very pleased with this," Burleson said. "The purchase of four box seats [online] last year had a service charge of $18; this year, it will be $6, so it's quite a savings."

By charging lower service fees, providing easy-to-use interface software, and increasing fans' ability to select specific seats, Krstacic predicts Glitnir will increase Indians' online ticket sales this year more than 15 percent.

"That will mean thousands of more tickets sold," Krstacic said. "People in the past have told me I'm crazy for predicting such increases, and we've always exceeded those projections going back to our founding in 2003."

The Indians aren't relying solely on their new ticket-sales partner to ratchet up sales.

The Indians are also unveiling several new promotions this year to lure in more fans. The minor-league affiliate of the Pittsburgh Pirates this year entered an agreement with The Indianapolis Star to offer two-for-one ticket pricing for all Tuesday games. The Star will run an Indians ad and coupon each Sunday before a Tuesday game.

On Thursdays, the Indians will offer a $15 ticket that, besides admission, comes with a hot dog, unlimited soft drinks and a souvenir: either a baseball, cap or T-shirt. The reserved seat that's included, Burleson said, normally costs $10 by itself.

"We've found that these promotions are major attendance drivers for us, and fit right in with our mission of providing family-oriented, affordable entertainment," Burleson said.

Also pushing attendance higher, he said, is interest in Captain Morgan Cove, a new restaurant-bar outside the left-field wall. The area seats 120 per game, and team officials project at least 4,000 will buy $30 tickets ($10 goes toward food and drink vouchers) to sit there this year. The capacity for the 120-seat area is 8,640 for the entire season.

"It's a little too early to tell, since we just announced this last month," Burleson said. "But we've had a lot of inquiries, and we think it's going to be tremendously popular."

Ticket sales aren't the only financial indicator on the rise for the team.

Burleson said sponsorship sales are running about 10 percent ahead of last year, and he expects to make two major sponsor announcements in the next month.

Burleson credits the sponsorship sales increase to improved sales of multiyear deals and the large high-definition digital billboard installed on the left-field wall last year.

Andrew Zimbalist, a sports economist and professor at Smith College in Northampton, Mass., isn't surprised by the Indians' success.

"Minor-league baseball franchises in general have done well during economic downturns because they offer family-friendly, relatively cheap entertainment," Zimbalist said. "The franchise in Indianapolis has been especially astute in marketing the team to area residents. That comes from knowing the market and catering to it. They seem to be ahead of the curve."•