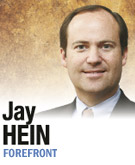 The Green Bay Packers' victory in Super Bowl XLV reminded us that sometimes sports can be more than a game. Just as generations of Cub fans inherited their allegiance from a grandfather who listened to all the games on WGN Radio, so, too, were cheese heads weaned on flickering images of Vince Lombardi's Packers during the NFL's earliest televised broadcasts.

These games were often viewed after Sunday dinner at home or at Grandma's. I was born during this era in a small town outside Green Bay, which most of America deems a pretty small town, itself. And that brings us to the main reason the Packers became America's team: social aspiration.

If Green Bay, population 100,000, could beat teams from such places as New York and Los Angeles on the gridiron, maybe our humble origins were not a barrier, after all. Pulitzer Prize-winning author David Maraniss, who grew up in Madison during the 1960s, has said, "Like all of us in Wisconsin, I felt that Lombardi was winning for us, for our way of life in the middle, against the egos and self-inflated values of the coasts East and West."

Vince Lombardi's signature play was the Packer Sweep. Every defense knew it was coming. But Lombardi—whose biography by Maraniss is now enjoying a successful run on Broadway—drilled flawless execution into the play requiring all teammates to work in concert rather than relying on a star player or two to be exceptional. Indianapolis readers would be correct to diagnose the Butler Way in these X's and O's.

Green Bay and Indianapolis' similarities do not end there. Both cities consider sports to be a reflection of not only their spirit but also their character. And while they measure success in championships, they measure the value of championships in community well-being. Indeed, this is the heart of the Indianapolis sports strategy launched by the likes of Jim Morris several decades ago.

Beginning in the 1960s with the establishment of the Greater Indianapolis Progress Committee, each of the past six Indianapolis mayors fueled public-private partnerships aimed to achieve "the city's full potential." These mayors understood that this could only be done by repairing blighted areas while simultaneously building stadiums, a convention center and other downtown assets. In other words, they believed that great cities require great neighborhoods.

Such thinking inspired Mayor Peterson to launch the Great Indy Neighborhoods Initiative (GINI) to create a comprehensive approach to housing, education, safety and other issues important to inner-city residents.

In 2004, the year GINI was launched, the 20 blocks that make up Indianapolis' near-east side were experiencing the highest foreclosure rate in the nation. Rather than wait for a bailout, the near-east-side residents declared they wanted to be their own cavalry coming over the hill. They forged a GINI-supported Quality of Life Plan that was bold and sophisticated.

So when the Super Bowl Host Committee was searching for a partner to enshrine a community legacy following the big game, they found an opportunity to invest in a neighborhood bull market being operated by the likes of the John H. Boner Community Center and Near Eastside Community Organization. Together, they raised millions of dollars for projects ranging from East 10th Street Business Redevelopment to renovating the Jefferson Apartments into a "homeownership incubator," rehabbing another 200 houses and constructing a state-of-the-art youth education center.

Such is the legacy of Indianapolis' sports strategy. Amateur and professional championships were used to draw conventions and other visitors while the city's growing wealth was being deployed back into its neighborhoods.

With the NFL labor fight dominating the headlines, the community-owned Green Bay Packers and community-minded Indianapolis Colts remind us that games matter, but people matter more.•

__________

Hein is president of Sagamore Institute, an Indianapolis-based think tank, and was an official in the administration of George W. Bush. Send comments on this column to ibjedit@ibj.com.