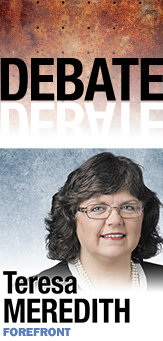 Question: Legislation under consideration in the General Assembly would mandate that the school year begin after Labor Day, which in turn would extend the school year into June. When should the academic year begin?

Answer: School year calendar issues always spur vigorous debate from parents, teachers, administrators and the community. It's a lot like the weather. It affects all of us, but it's different from one part of the state to another and even from one part of a county to another. Because of this, decisions about the start of a school year should be left to local communities.

Proposed legislation would push back the start date until after Labor Day, which in turn would extend the school year into June. As an educator, my first filter is always, "What is best for Indiana students?"

The primary rationale claims a later start provides an economic boost through extended tourist opportunities to places like water parks or the Indiana Dunes, but I am not sure that has anything to do with what's best for Indiana students.

Beaches and water parks might benefit from a later start date for schools because they could stay open through the Labor Day holiday weekend, plus high school workers would be available to lifeguard or work concessions. But is that really a good reason to delay the school year? That sounds more like a decision to benefit businesses, not students.

And, by starting later, the year ends later, which cuts into the tourism argument again. Tourists and student workers aren't available in early June if schools are still in session. If Indiana beaches and water parks covet later school start dates, what about places like the Indianapolis Motor Speedway? What about Paoli Peaks or Perfect North? Certainly, one size does not fit all.

It seems best to include those closest to the issues when making decisions for school corporations.

Urban areas like Marion County with a population of nearly 1 million have different priorities for tourism, family vacation time and school start dates. Indiana's less-populated areas like Ohio County in the southeastern corner of the state and with a population under 5,700 might want an earlier start date so its school corporation might allow for a fall break during harvest season. Lake County, with nearly a half-million residents and a neighbor of Porter County, is probably less influenced by a later start date than Porter with its prospective tourism dollars from Indiana Dunes.

It seems clear that local control of school calendar issues should be based on what is best for the students in local settings and not about the bottom dollar of profit.

Indiana school boards have proven perfectly capable of determining what works best for their students, constituents, communities and local economies. Local education leaders are much more attuned to what is needed in the community and what dates work best.

It has already been determined that every school will have 180 student days. Communities currently determine, through the work of their school leaders, what calendar works best.
In some communities, an earlier start date means balanced semesters with the first semester ending in December. For students in these communities, no matter which semester they take any given class, they will have the same number of days—or close to it—to learn the content.

Additionally, there is a greater likelihood finals will be completed in December rather than January. Other communities might wish to start later in the year and end later in the year for reasons unique to their student populations. However, whatever start date is selected usually reflects student and community needs.

It can be snow-storming in South Bend and crisp and sunny Evansville, and those different areas demand different solutions. Finding an answer that pleases everyone will be difficult, but those closest to the situation—local school leaders—might be most qualified to make the best decisions for student, teacher, community and economic needs.•

__________

Meredith is vice president of the Indiana State Teachers Association and has taught for more than 18 years in Indiana schools. Send comments on this column to ibjedit@ibj.com.