Two ash ponds at Indianapolis Power & Light Co.'s Harding Street generating plant are in poor condition and pose a "high hazard" to human life and property if they burst.
That's the conclusion of engineers for Cambridge, Mass.-based CDM, an engineering firm hired by the U.S. Environmental Protection Agency last year to inspect IPL's coal ash ponds as part of a national assessment of coal-fired plants.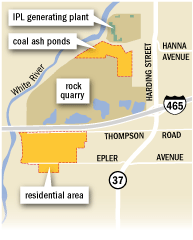 The agency began paying more attention to the integrity of coal ash ponds after the collapse of a pond at a Tennessee Valley Authority power plant in 2008. More than 1 billion gallons of sludge buried 12 homes and damaged more than 40 others.
Earlier this year, the agency presented IPL a list of recommended repairs and procedures for maintaining the Harding Street ponds, which can hold tens of millions of gallons of water.
"EPA believes [the repairs and procedures] should receive the highest priority," Suzanne Rudzinski, director of the agency's Office of Resource Conservation and Recovery, wrote to IPL in January.
But IPL, in correspondence with EPA, vigorously disputes many of the findings from last year's inspection. The utility says there's a low probability of deaths under a worst-case breach scenario.
"The draft report provides no rational basis for these classifications," Harding Street Plant Manager Gregory Daeger wrote EPA.
Furthermore, the rating "is not an indication of the structural integrity of the ponds or the possibility that a failure will occur in the future," IPL said in a statement to IBJ.
The utility said the hazard ratings are based on a "worst-case operational breach scenario" and on what it called "subjective evaluation."
IPL said it's too early to estimate what it will cost to carry out recommended pond improvements. "IPL will continue to work with EPA to address their concerns."
Though the probability of serious casualties is in question, breaches at IPL facilities aren't unheard of.
A levee in the main ash pond at IPL's Eagle Valley power station, in Martinsville, failed twice in early 2007.
One of the releases sent an estimated 30 million gallons of ash pond water into the west fork of White River, according to the Indiana Department of Environmental Management. IPL made repairs and agreed to pay a civil penalty of $23,800.
The ash ponds at the Harding Street station are in more of an urban setting than those at Eagle Valley. The failure of the north embankment of one of the Harding Street ponds "could have an environmental impact on Lick Creek and White River and possible property damage and loss of life downstream," CDM inspectors said.
Such ponds have been used by utilities for decades to process residues formed when coal is burned. The residues, which are mixed with water and stored in the ponds, is then dried and sold for commercial uses such as for concrete, asphalt and other building materials.
Among CDM's complaints was what it said appeared to be inadequate inspection practices. Further, it said IPL was not able to provide a hydraulic analysis showing the ponds could endure an extreme precipitation event.
Plant Manager Daeger cited a number of problems with CDM's inspection in his letter to EPA.
Daeger added that a breach of some ponds would send water flowing toward White River, to the west, which contains a dam downstream of the ponds that IPL says would minimize excess flows.
Daeger also said the "poor" condition rating assigned to two ponds was arbitrary because it was largely based on lack of documentation for the construction of the ponds in the 1950s.
Nevertheless, IPL told the EPA it will make a number of improvements, such as installing soil monitoring devices, conducting further hydraulic analysis of the embankments, and developing an emergency action plan.
IPL also agreed to review and possibly revise its inspection procedures.
Coal ash ponds generally aren't inspected by the Department of Natural Resources.
The Indiana Department of Environmental Management monitors water outflows from ponds, but does not inspect the ponds' structural integrity.
The state has 53 surface impoundments at 16 power plants, but they are lightly regulated and aren't required to have liners. Nor must groundwater in the vicinity be monitored, said the Hoosier Environmental Council.
Many coal ash ponds are built with a "low level of engineering," said Tim Maloney, the HEC's senior policy director.
"There's really virtually no state requirements for construction or monitoring of those impoundments," Maloney added. "The risk is, anytime water comes in contact with coal ash it leaches out the toxic metals."•
Please enable JavaScript to view this content.