"Theater is dead," pontificated a guy in a rain-moistened smoking circle outside the Murphy Art Center at Fountain Square.

I let it go. Such sweeping statements are easy to make, and he didn't seem like he was in the mood for a debate. But I saw the same sentiment expressed in "Outrageous Fortune: The Life and Times of the New American Play," put out recently by the Theatre Development Fund based on a study of theaters and playwrights.

"Writers and artistic directors do agree ... that the audience is disappearing from the traditional theatre, graying, dying, and turning away from the form for more insistent, exciting, accessible, inexpensive media. An explosion of entertainment choices has marginalized a staid theatre."

Sound pretty dire? Well, three different productions from three different companies over the past few weeks point to some ways to counter—or at least hold off—the decline.

The Phoenix Theatre is not only dedicated to the production of new plays (increasingly rare because established work is easier to market), it's also dedicated to finding plays that speak directly to younger audiences. Over the past few years, these have included "End Days" and "Speech and Debate." This time around, it's Carter W. Lewis' "The Storytelling Ability of a Boy" (running through March 27).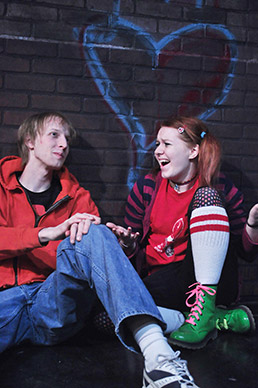 Butler students take the lead in Phoenix's "The Storytelling Ability of a Boy." (Photo Courtesy Phoenix Theatre)
There's something thrilling about a play opening with an audience having no clue where it's going to go, and this one contains its share of surprises, so I won't go too deeply into the plot. Like previous Phoenix plays, its teen characters are smart but awkward, attempting to navigate

interpersonal relationships while being convinced the world is hip-deep in BS.

The kids are played by Butler students Abigail J. Hart and Shane Tarplee, both making their Phoenix debuts. Their teacher is played by Carrie Schlatter, adding a little grown-up gravitas to this not-what-it-appears-to-be love triangle. Lewis takes them through somewhat familiar territory, but keeps things engaging through a variety of means—including some speculation on the carnal pleasures to be had with late opera great Luciano Pavarotti. (Bet you weren't expecting that.)

Lewis seems to relish such excesses, but they sometimes work against his play. Violent acts range from stereotypical bullying (yes, kids get bullied, but in plays and film they always seem to get bullied in the same way) to self-mutilation (a nail gun to the hand, no less), but neither damages the piece as much as Lewis trying to force feed the terrible title into the show itself. This creates awkward stretches of deconstructive, self-conscious writing that even a more experienced cast couldn't make comfortable.

I fear I'm sounding more negative than I want to, which could be because the flaws in "The Storytelling Ability of a Boy" seem in your face while its pleasures are subtler—something that often happens with new work. Hart and Tarplee develop a nice rhythm for the dialogue and Schlatter comes across genuinely concerned about the well-being of the students—even if her methodology may lead to a disciplinary hearing or worse. I applaud the show but also the Phoenix and its funders for their ongoing willingness to bring us new stories from new voices.

____________

When a good stage comedy hits its stride, there's nothing in the world like it. And Butler University's "As You Like It" found that sweet spot in its second act, when it becomes clear that plot isn't as important to William Shakespeare in this one as is capturing the joyful spirit and beauty of infatuation. Interesting that, as I write about it, the smile I get comes from memories not of speeches delivered but of reactions.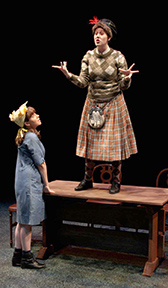 In "As You Like It," left, Jill Harman clowns as Touchstone. (Photo Courtesy Butler University)
As guest-directed by Tim Hardy (a company member of Actors From the London Stage), "As You Like It" left me smitten with its lanky Rosalind (Steph Gray—resembling a young Allison Janney and easily castable in a professional production of the show) and charmed by its not-too-bright Orlando (Tyler Ostrander—think twentysomething Harry Hamlin). Megan Medley's Celia could have walked straight out of the sidekick role in a Disney Channel show, but the performance works because she's so in tune with her fellow actors.

The usual college production caveats apply. Not everyone in the large cast has the chops to transcend. And an ideal "As You Like It" has older actors to give a more rounded picture of the world that the young lovers inhabit (I particularly missed the frailty of Adam, although Joe Esbenshade does as good a job as one could expect from someone 60 years younger than the character). But with audiences packed with engaged students laughing and loving the magic that was happening in front of them—and with an interesting device imposed on the play by the director to mitigate its sudden character shifts—I couldn't help but think that, being nurtured properly, this talented Shakespeare guy knew a little something about being young.

____________

I'm sure I'm not the only theater lover disappointed that the tour of the Tony-winning Best Musical "Spring Awakening" didn't make it to Indianapolis. But it did come to Indiana University Auditorium for a one-nighter and it was exciting to see a house of that size filled with students who mirrored the age of the characters on stage.

The makers of "Spring Awakening" understand the seemingly obvious idea that, to effectively engage young audiences in a rock musical, it has to actually rock. The score powerfully captures the frustration of youth—the sense of being in over your head, not knowing where you are going, but needing to somehow release.

Played in such a large venue, the non-Equity tour didn't have the intimacy of the Broadway production. Instead, it came across more as a concert with action—and that worked for the material and seemed to work for the audience. Every generation needs its great rock show and this one has it. (Hard to believe that the IU students falling hard for "Spring Awakening" were in elementary school when "Rent" opened.)

Theater dead? Nah.•

__________

This column appears weekly. Send information on upcoming arts and entertainment events to lharry@ibj.com. Twitter: IBJArts and follow Lou Harry's A&E blog at www.ibj.com/arts.