The 2-year-old tag line for the recreational product superstore Family Leisure is plenty catchy: Where family and fun come together!
But it could take years before the new name builds the kind of brand equity tied up in the old one: Watson's. Customers in each of the chain's eight markets still identify the stores with "Watson's Girl" Jennifer Eichler, who showed off pool tables, patio furniture, hot tubs, swimming pools and tanning beds for 15 years.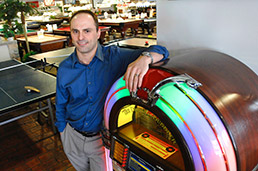 Kevin Prefontaine handles most day-to-day operations at Family Leisure, including its popular ad campaigns, while his father remains CEO. (IBJ Photo/ Perry Reichanadter)
The company changed its name two years ago, both to clearly communicate the store's mission as it launched a new website and to emphasize the Indianapolis-based operation's independence from a cluster of Watson's stores based in Cincinnati, said Family Leisure President Kevin Prefontaine (Eichler is his stepsister).
Family Leisure's eight stores—scattered from Tennessee to Texas—often buy together with the Watson's chain, and the companies have agreed not to open stores in the same markets. Family Leisure has its offices in a giant showroom and warehouse at 11811 Pendleton Pike. It has annual revenue of $50 million to $75 million, Prefontaine said.
Family Leisure could be well-positioned for U.S. expansion since there is no category killer for big-ticket family recreational products, said Theresa Williams, director of the Center for Education and Research in Retailing at Indiana University.
"I think they have an opportunity," she said. "They have a nice niche in terms of quality of products and cohesiveness of the category."
A challenge is developing Family Leisure as a brand, rather than for the collection of brands it carries. The TV spots and tag line certainly help, Williams said, but store-level execution is most important.
The fact is not lost on Prefontaine, 34, a cousin of the famous runner.
"Nothing I sell do you have to have," he said.
As a former wrestler, Prefontaine likes to hire a sales force of ex-athletes. Half of sales come on weekends, so associates need to have patient and understanding families.
The company has an unusual franchise-based growth strategy. Top executives don't look for a new market until they decide a general manager is ready for his or her own store. Family Leisure puts up the financing for new stores and the owner gradually pays it off. An outsider with cash can't just buy in.
"It's a slow, methodical process," Prefontaine said. "If more stores open, great. If not, I'm OK with that, too. Bigger is not always better."
The stores—which employ about 25 people each and range in size from 35,000 square feet up to 60,000 square feet—generally draw customers from a 100-mile radius.
In addition to being independently owned, each store makes its own purchasing decisions, helping to minimize big buys of merchandise that does not sell. Inventory turns over about four times per year.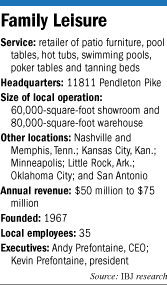 "If the housing market is booming, customers leave with two or three items," Prefontaine said. "That excitement of buying goes away when the housing market dives."
But the downturn hasn't been all downside for Family Leisure. The company is benefiting from what Prefontaine describes as "cocooning"—the decision that if you're home isn't going to sell, anyway, you might as well upgrade while you're living there.
Game-room furniture, pool tables and bars are the top sellers these days, whereas pools and hot tubs moved quickest during the housing boom.
The Family Leisure website, launched in early 2009, still produces less than 10 percent of the company's sales but is showing promise. About 75 percent of online sales come from customers outside the chain's markets, giving the company intelligence on where it should open new stores.
The site also helps the company spot trends, particularly for outdoor rooms and patio furniture.
Family Leisure is investing about $125,000 to add an outdoor pool showplace and build a row of high-end outdoor rooms at its Pendleton Pike store. And it is considering additional stores for the Indianapolis market. The first one would be either northwest or west, and a third could go south, Prefontaine said.
Other locations are in Nashville and Memphis, Tenn.; Kansas City, Kan.; Minneapolis; Little Rock, Ark.; Oklahoma City; and San Antonio. Watson's operates stores in Cincinnati, St. Louis, Louisville, Grand Rapids and Clarksville, Ind.
Prefontaine's father, Andy, was a partner with Bill Watson in the original Watson's, which started in Ohio. Andy Prefontaine came to Indianapolis and opened the store on Pendleton Pike in 1985. The young chain gained fame about 10 years later when it debuted the "Watson's girl."
The commercials ran for 15 years, and customers in every market thought she was local. She actually lived in Indianapolis.
Bruce Bryant, president of locally based Promotus Advertising, thinks the chain should continue to tweak its ad campaign to better match the business.
He was surprised to visit the store and find such an upscale selection and friendly customer service. Based on the TV spots, he expected more bargain-basement products and an impersonal warehouse feel. Bryant, who was shopping for patio furniture, was impressed with the selection but decided the chain's corny jingle and corresponding image of playing children didn't match its upscale products.
"Obviously, they've done a good job from a business standpoint—there shouldn't be any presentation that trivializes that or makes it a joke," Bryant said. "We're upscale, we're going to treat you nice, and we're going to back our products. You don't want people to leave disappointed because they're out of the league."
Prefontaine says that shouldn't be a problem.
"We're not low-, medium- or high-end," he said. "We cover it all."•
Please enable JavaScript to view this content.