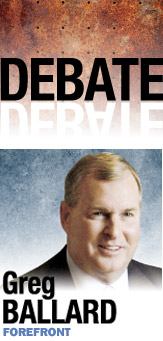 Question: What is one big idea from another city that you'd like to implement here?

Answer: Indianapolis is many things to many people. It is home, a business address and a destination for great shopping, entertainment and sporting events. It also is a model of what can be done when we work together for the long-term good of the city we love.

Indianapolis is best served when we incorporate ideas from other places while also seeking innovation that serves as a model for others.

As mayor of Indianapolis, I am frequently approached by other municipalities asking, how did you have a record-breaking year in attracting new jobs during this economy? How did you cut taxes, eliminate a projected $170 million deficit, and balance your budget while investing in new police cars, replacing 80 percent of your snow fleet, and finding more than $30 million to improve your parks? And, how did you successfully renegotiate your sewer agreement with the federal government to not only improve the environment but also save utility customers $740 million?

I am proud to share our success stories and help my fellow mayors overcome similar challenges. The New York Times recently heralded our city's international focus. I was asked on a national PBS program to offer advice in tackling major challenges to some of the country's newest mayors.

Indianapolis is a model. Our sewer agreement recently was profiled on the cover of Engineering News-Record, the pre-eminent trade journal in construction and engineering. The article calls the agreement the first of its kind in the nation and lauds it as an innovative approach to engineering, resulting in major cost savings and more efficiency.
While we are a leader, we don't have a monopoly on good ideas and it's vital that we constantly look to other places and listen to all voices for ideas to continue our growth as a metropolitan area.
Take the imminent shuttering of the General Motors Stamping Plant. Indiana has many examples of former automotive plants that sat decaying for years only to become a blight on their area. As mayor, I simply refuse to cling to false hope that another industrial user will quickly appear. We cannot allow this prime 100-acre parcel next to downtown and adjacent to White River State Park become a scar on our urban landscape.
Atlanta turned the contaminated site of a former steel mill into an urban jewel called Atlantic Station. This development features housing, office space, retail, entertainment and green space. It is a centerpiece of redevelopment in the Midtown area of Atlanta, next to a major highway and near the Georgia Institute of Technology campus. The GM Stamping Plant site is similarly located next to a highway, near our urban core, and could hold the same promise.
I asked former Indianapolis Mayor William Hudnut and the highly respected Urban Land Institute to lead a study of the GM site. This summer, independent experts from around the nation will talk with city leaders, neighborhood residents, and real estate and environmental experts and make a specific recommendation about the potential of the site. This is the same team that helped turn a former auto plant in Kenosha, Wis., into HarborPark, an exciting urban community of homes, shops and retail.
As I look to the future of our city, I want it to serve as a model and laboratory for the best ideas in municipal government. We are succeeding. Other cities are looking at us as they try to tackle their fiscal issues.

Businesses are looking at us as a place where they want to locate. And, as a community, we are taking a new look at ourselves and asking, where do we want to be 40 years from now?•

__________

Ballard, a Republican, is running for re-election as mayor of Indianapolis. Send comments to ibjedit@ibj.com.