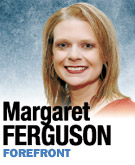 Politicians are good at making political decisions. Indeed, that is what they are supposed to do. Politicians are not good at drawing district lines.
Rather, they are very good at drawing lines for political advantage. They are not good at creating healthy and competitive districts. And healthy, competitive districts are necessary for a productive and representative political process.
Indiana is among the 37 states that leave the power to draw their own districts as well as U.S. House districts up to state legislators. The other 13 states employ nonpartisan commissions to attempt to remove politics from this innately politically charged process.
Unlike some people, I don't see "politics" as a dirty word. Far from it. Politics is the mechanism by which we balance the competing interests in our diverse society.
But redistricting should not be a political endeavor. It must not be used to circumvent the political process at the ballot box. Safe districts essentially decide elections and take the power out of the hands of voters today and for the next 10 years.
Those who draw district lines have historically drawn them in ways that benefit themselves. Before the 1960s, for example, lines were commonly drawn to dilute the interests of African-Americans.
The Supreme Court and the Voting Rights Act of 1965 long ago made this practice illegal. The Supreme Court has not, however, attempted to say that legislatures cannot draw district lines in such a way as to protect the majority party.
Indeed, the notion that a legislature, which is by definition both a majoritarian and a political institution, would not consider the political ramifications of this process is naïve and perhaps even beyond the bounds of reason.
It is true that whoever draws district lines must follow certain guidelines. The Supreme Court has ruled that districts must be as close as possible to equal in population. They should be compact. They should respect city and county borders as much as possible.
Legislators today, and even private citizens, have access to highly sophisticated computer programs that can take into account population and compactness, etc. But they can also generate detailed political data. Technology makes it easy to pursue political goals such as creating safe districts for some incumbents while placing others in less-friendly or even hostile districts.
The districts drawn by the Republican majority will be in place the next 10 years and will probably solidify Republican control for that decade. The effects of these politically inspired districts will be long and far-reaching because at base they decrease competition.
Competitive campaigns—those in which both candidates have at least some reasonable chance of winning—are necessary for producing a healthy competition of ideas. The creation of noncompetitive districts will suppress turnout among voters who will believe (with some justification) that the election is a foregone conclusion. It will stifle debate because good campaigns (when they occur) generate the discourse that is important for hashing out the issues of the day.
Noncompetitive districts also have repercussions for governance. Incumbents serving in districts that lean heavily toward their party have less reason to concern themselves with the folks back home as they make policy choices since they are unlikely to have any real competition in the next election.
Redistricting that benefits the majority party is probably good politics, and politicians such as legislators (and especially legislative leaders) cannot be expected to control their political impulses when drawing district lines.
However, such a process is not good for our democracy. Indiana should join the handful of states that give external, nonpartisan commissions the power to draw districts while giving the legislature a final up or down vote on the proposed maps.
Such a nonpartisan process enables decision-makers to concern themselves with creating healthy and competitive districts that will ultimately create a livelier and more representative political process.•
__________
Margaret Ferguson is an associate professor of political science in the School of Liberal Arts at IUPUI with expertise in state politics. Views expressed here are the writer's. Send comments on this column to ibjedit@ibj.com.

Please enable JavaScript to view this content.