Casey Foyt was pregnant when she opened the frozen yogurt store Huddles at 86th Street and the Monon Trail in June 2010.
"That was our big joke: It was the ultimate craving," she said.
Laugh and the world laughs with you, apparently: Frozen yogurt businesses are sprouting up all over the Indianapolis area, with owners hoping to cash in on the public's appetite for what they perceive as a healthy treat.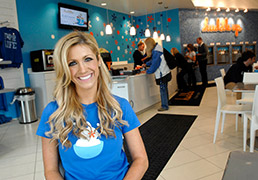 Casey Foyt is the owner of Huddles yogurt shop in Nora, one of a host of new frozen-treat spots peppering the local landscape.(IBJ file photo)
We're a long way from the days when your choices were TCBY and Freshens—although they're still around. In addition to Huddles, which will open a second store this summer in Carmel, you'll find Orange Leaf at the Carmel-Westfield line, Yogulatte on Massachusetts Avenue, Red Mango in Broad Ripple, Yogokiss on East 96th Street, Ella's and the Yogurt Shoppe in Greenwood, and Kaleidoscoop, a combination ice cream and yogurt shop on Crawfordsville Road.
Huddles, Yogulatte, Yogokiss, the Yogurt Shoppe and Ella's are local operations. Another one of the locals is Yogi Frozen, which has a store in Fishers and plans to open a second store. Many of the others are part of larger organizations, including Orange Leaf, which plans to open stores in Fishers, Zionsville and Avon soon.
Steve Delaney, principal with Indianapolis-based Sitehawk Retail Real Estate, which found the locations for Huddles, said close to a dozen national chains are looking at Indianapolis sites now. "It's very, very competitive," he said.
This phase of the frozen yogurt craze—the first was in the early 1980s—started on the West Coast in 2005-06. It soon spread east and is infiltrating the rest of the country. Jim Sapp, who's opening a 3,000-square-foot Froyo store at 82nd Street and Masters Road in July, attended YoCream University in Portland, Ore., to learn the ins and outs of the business. He was one of more than 500 people who've attended the two-day training sessions at the 2-year-old school, according to its director of marketing, Suzanne Gardner.
Sapp said he became interested in frozen yogurt when his son, an Indiana University student, told him about Pinkberry, a popular West Coast chain. He looked into the business and found research that said the yogurt industry is growing 17 percent a year and the ice cream business is shrinking 4 percent a year. If all goes as planned, he hopes to open five Froyo shops—independent operations, not franchises—in central Indiana over the next few years.
According to the website frozenyogurtfranchise.com, the initial investment in a franchise can range from $75,000 to $150,000. Most stores are in the 1,500-square-foot range.
The brands in the frozen yogurt market are coming at consumers with two big pushes. The first is the self-service concept, which lets consumers dispense as little or as much as they want and create their own mix of flavors and toppings. Pile the crumbled Oreos on multiple flavors if you want, add a splash of fresh fruit and nuts to one kind of frozen yogurt or find some other combination. You're the boss. (Typical cost: 45 cents an ounce.)
Yogulatte and Huddles are among the stores that use this approach.
"People have come in and said, 'Oh, I've never seen this concept before,'" Huddles' Foyt said. "It's fun to see people falling in love with it."
The second push is health. At Orange Leaf, a sign lists the calorie and fat count for each flavor. The centerpiece of each table at Huddles is a sheet boasting that frozen yogurt boosts your immunity, lowers your cholesterol, builds strong bones, promotes digestion and is a great source of protein.
That aspect of the business will only become more prominent. Sapp's Froyo store will sell Activia, the Dannon brand containing a probiotic culture that it claims works to help regulate your digestive system.
Timothy Casey, CEO of Utah-based TCBY, boasted in an e-mail to IBJ that its "Super Fro-Yo" soft-serve frozen yogurt has as many grams of fiber as an apple or a half-cup of broccoli. "But obviously tastes much better."
"The customer has spoken," he wrote. "They need and want to consume things that are good for them and for their overall well-being and they are not willing to sacrifice flavor. They want both."
But is frozen yogurt actually healthy? Staci Small, a registered dietician with the Wellness Philosophy in Greenwood, said there's no simple answer. On the plus side, it contains enzymes that may help digestion. But she said frozen yogurt might contain artificial colors or sweeteners.
"There are a lot of questions that need to be asked before we can say that it's a healthy food," she said. "I don't want to say that it's not healthy, but I think it's definitely something we need to consider because it's higher in sugar, higher in fat, higher in calories than just typical yogurt."
There was a time when frozen yogurt was seen as little more than ice cream's poor relation. But Richard Feinberg, a consumer psychologist and professor in Purdue University's Department of Consumer Sciences and Retailing, said it's now one of many products that fit into an emerging consumer trend of health and well-being.
"Products and services that provide health benefits will continue to grow," he said, "fueled by the rise of the baby boomers. These foodiceuticals (foods that have health and fitness benefits) will become the foods of choice over the next 20 years; Vitaminwater, foods that consumers perceive as enhancing performance like G series drinks from Gatorade, anything that helps sports nutrition will see a growing market."
But can the Indianapolis metro area support a dozen or more frozen yogurt stores? Feinberg said no. Strong national brand recognition will help some. Independents might survive, "but marginally. The cost of entry is low, and if the people who own them don't have to make money (it's a hobby), they will survive. If they want to make money, it will be difficult for a small, independent owner to survive over the long term (three-plus years)."
Sitehawk Real Estate's Delaney compared it with the big bagel explosion of 15 years ago that saw Einstein, Bruegger's, New York, Big Apple and My Favorite Bagel and Muffin stores proliferate around the city and then retrench. "You're going to see the same thing with yogurt," he said. "You're going to see several come into the market and then there'll be a shakeout that might take three to five years. But in the end, they'll still be here. It's a viable concept. People enjoy it and they'll continue to do so."•
Please enable JavaScript to view this content.