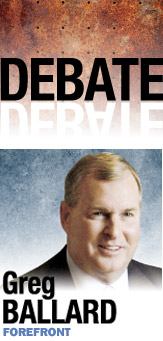 Question: What role, if any, should the mayor of Indianapolis play in overseeing Indianapolis Public Schools?

Answer: As I stated in my State of the City address, Indianapolis must have schools that parents want to move to, not from. The city that achieves significant high school graduation rates, combined with strong post-secondary opportunities, will be a magnet for businesses and families.

Indianapolis faces two critical education questions. What should we do about the state takeover of several IPS schools later this year and where do we want to go as a city when it comes to our public education system, which includes 11 school districts and the charter school program?

Lawmakers passed a law in 1999 allowing state intervention or takeover of schools that fail to meet Indiana's minimum education standards for six consecutive years. Up to seven IPS schools face the prospect of being taken over by the state.

My current focus is on achieving the best possible results for the students at these schools. There is a community consensus that after six years of failing to meet minimum standards, these schools must undergo significant change. But what has the city done about this potential state takeover?

At my request, the General Assembly this year passed a law giving the mayor the ability to ask the state to regain local oversight of these schools as early as next year. So, I plan to ask the state in 2012 to move the schools it takes over into a local, community-based and accountable system similar to our highly successful charter school program.

I respect Superintendent Eugene White's efforts and I will continue to seek his input as we move forward developing a new management strategy for these schools.

We have a stellar record of overseeing charter schools. Stanford University recently found that Indianapolis charter school performance outpaced traditional public schools in learning gains. We set high standards, demand results and hold accountable schools that don't measure up.

The immediate return of local oversight of our schools sets the stage for the larger discussion about education in Indianapolis. Some thoughtful and concerned leaders believe the mayor should take over all of IPS. I share their desire to improve education in our city. However, I think these calls are premature right now for two reasons.

First, the landmark reforms passed by Gov. Daniels and the General Assembly have not begun to be implemented—let alone given time to work. All schools in Indianapolis need the time to use the new tools to improve the education of our children.

At recent public meetings regarding state takeover, parents and teachers both expressed concern that administrators kept changing staff, goals and missions every couple of years hoping something would work. Let's not make the same mistake. We need to be quick, but methodical in our approach.
Second, the elephant in the room, state intervention at these IPS schools, should be our immediate focus. Once we successfully turn around these schools, we can tackle the issue of IPS as a whole.

Our citywide objective must be to have the best-performing schools in the nation. I have said repeatedly that over a generation, education, economic development and public safety are the same issue.

Therefore, as long as we keep children and a student-centered, learning-focused environment as our top priorities, our city will be successful.•

__________

Ballard, a Republican, is running for reelection as mayor of Indianapolis. Send comments on this column to ibjedit@ibj.com.