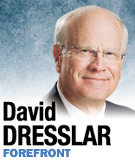 The push for education reform has never been greater in Indiana and across the nation, and often for good reason. Declining international comparisons, lagging K-12 test scores, high dropout rates and too many students lacking even the most basic skills all have created this urgency for change.
The lack of student success is a concern for even the most pro-school individuals, and for school critics, poor student performance is considered a threat to the very fabric of our state and nation.
In addition, a completely new political circumstance has given life to the demand for change in education policy. For the first time, we have a Democrat in the White House who is also an educational progressive. The long-standing allegiance of the Democratic Party to the teachers' unions has been fractured by the support of President Obama for such ideas as expanding charter schools and adopting performance-based compensation for teachers and principals.
At the state level, this situation has created a schism among Dems, with the old guard clinging to the status quo for schools while new thinking is emerging through groups such as the local branch of the national organization Democrats for Education Reform. While this is happening, some Republicans have intensified their traditional criticisms of public schools, or as they prefer, "government schools," including their demonization of teachers' unions.
Even so, the political common ground for K-12 education reform has never been wider. Hoosiers who have been paying attention know that about the only thing Gov. Daniels and Obama agree on is the need for school transformation. Even their respective education chiefs, Superintendent Tony Bennett and Secretary Arne Duncan, frequently compliment each other and consult with each other.
Not that all is in sync between the parties—Republican support for private-school vouchers and attacks on teacher collective bargaining are not acceptable to even the most progressive Democrats. On the other hand, reforms such as an emphasis on teacher and principal quality, the use of student assessment data to drive instruction, the use of a common core curriculum, an acceptance of education options for students, an embrace of alternative governance structures, and the need to turn around low-performing schools all find significant support in both political parties.
What does all this newly discovered bipartisan resolve behind improving our schools really mean for educators? Interestingly, we are beginning to see the relationships in local school corporations adjust to the realities of the recently passed education reform legislation in Indiana. That is, traditional adversarial relationships between school district and teachers' union leadership are evolving toward more collaborative relationships.
For example, now that teacher contract negotiations are limited to salary and salary-related fringe benefits, issues that are commonly characterized as "working conditions" are now subject to discussion rather than being a part of formal negotiations. Both sides realize that such discussions cannot succeed without increased communication and trust.
Also, superintendents and union leaders have discovered that they share the mission of making their schools more successful to ward off the potential loss of students posed by increased competition from charter schools and newly approved private-school vouchers.
Another example of this new relationship comes with the realization that they need to forge effective agreements for such reforms as high-stakes teacher evaluations that not only satisfy the requirements of the new law but also provide for workable solutions.
So, with the politicians pursuing school reform through the adoption of new statutes and the K-12 educators forging new relationships between management and labor, what does this mean for Indiana's students and their parents?
The answer has yet to emerge, but it is my hope that this new era of bipartisan school reform and collaborative school leadership will mean improved outcomes for our students and, therefore, our state. The politicians have acted—now it is up to us to support the school leaders as they seek to make reform a reality.•
__________
Dresslar is executive director of the Center of Excellence in Leadership of Learning at the University of Indianapolis. Send comments on this column to [email protected].
Please enable JavaScript to view this content.