A former Indianapolis resident who now lives in Philadelphia won the Monument Circle Idea Competition People's Choice award, Indianapolis Downtown Inc. announced Tuesday.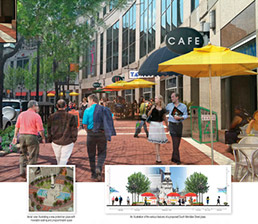 Greg Meckstroth's vision for Monument Circle won the People's Choice award. (Rendering courtesy Indianapolis Downtown Inc.)
Greg Meckstroth was awarded $1,000 for his design, entitled "Square One: A Monument Circle Vision."
Meckstroth's design aims to increase green space, activate first-floor storefronts and improve pedestrian areas to encourage more interaction. He works at a design firm in Philadelphia.
Posters featuring the top 12 entries, chosen by a jury of industry professionals, were displayed on Monument Circle storefront windows for about two weeks. More than 800 votes for the People's Choice award were cast via a text-to-vote campaign.
Ideas generated by the contest may be considered by planners already working on the future of the Circle. The Indianapolis Department of Public Works has retained the team of local design firms Woolpert Inc., Browning Day Mullins Dierdorf Architects Inc. and Eden Collaborative to conduct a so-called scoping study to get that process started.
The public unveiling of the top proposals this month generated some buzz for another entry, too. The judges' No. 2 choice, Re: Centering Indianapolis 1001—submitted by Indianapolis-based Ratio Architects' Urban Design Studio—included a building design that some critics said was too similar to La Tour Vivante, a French building designed by Paris firm SOA Architects. Accusations of plagiarism abounded in blog posts and online forums.
Ratio Principal Bill Browne said the building in the upper center of the entry, marked "Idea 979," was never meant to be passed off as an original design. Rather, it was merely meant as a placeholder.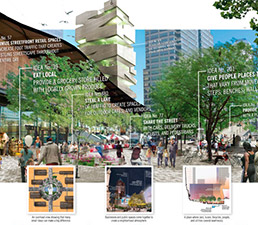 Critics said a building in Ratio's design was too similar to an existing building. (Rendering courtesy Indianapolis Downtown Inc.)

"We should have visually credited SOA for the design of that building and that was our mistake," he said. "It was just meant as an example of what would be a good idea to do with buildings in and around the Circle to achieve 24/7 vitality."
In a formal statement on the Monument Circle Idea Competition's blog, Browne said he is donating the firm's $2,000 prize to IDI.
Some members of the local design community look at the use of La Tour Vivante's image more as a missed opportunity than a major ethical lapse.
"We need original ideas for Indianapolis. It's time for us to quit looking outside and trying to copy what other cities are doing," said Craig Von Deylen, principal of Black Line Studio.
Please enable JavaScript to view this content.