In one direction, cars buzz by on Washington Street. In another lurk the shadows of the Indiana State Museum, the NCAA headquarters and the pedestrian bridge that once ferried U.S. 40 traffic across America.
Amid the traffic, joggers and tall buildings, rows of beets, peanuts, squash, tomatillos, beans, turnips and other vegetables are being cultivated on a 6,000-square-foot garden in White River State Park.
Now in its second year, the Wishard Slow Food Garden grows produce for local markets, restaurants and residents alike. And from 11 a.m. to 2 p.m. on Thursdays, consumers can sample some of the harvest as the Duos Indy Mobile Kitchen sets up shop a few steps away.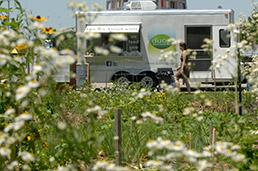 The Duos Indy mobile food truck sets up shop at the Wishard Slow Food Garden downtown every Thursday. (IBJ Photo/Perry Reichanadter)
The public garden sits on a bend in the Indianapolis Cultural Trail, between the White River State Park visitor's center and the NCAA headquarters building. Its location is no accident: One of the garden's goals is to raise awareness of small-scale urban agriculture—part of the so-called "slow food" movement that emphasizes locally grown ingredients.
"We really just want it to be a point where people start to think about food," said Laura Henderson, founder of Growing Places Indy, a local organization that promotes urban agriculture and operates the garden. "If we're there, they can talk to us. We have lots of wonderful conversations."
That feedback already has prompted changes in the garden, launched last year with the help of a $30,000 grant from the U.S. Department of Agriculture.
In 2010, garden staff focused on growing vegetables native to the Midwest. This year, organizers decided to divide the garden into five distinct beds, each of which aims to educate the public on different ways to access locally grown food.
One of the beds is for "grow your own" produce and community gardens, distributed to volunteers and park staff. Another is for a Community Supported Agriculture group, which buys shares of the garden and receives produce each Wednesday. Two beds represent local grocers—providing food for the Pogues Run food co-op at 2110 E. 10th St.—and farmers markets, with produce sold at the Wishard Farmers Market on the hospital grounds every Tuesday during the summer.
A fifth bed provides food for the Duos food truck. Its presence each Thursday provides a visual link between farm and plate.
"That was the best part of bringing this all together," garden co-director Andy Cochran said. "It's just a visual application of what we're doing here. When they can come by here, it makes that instant connection. There are a lot of people who don't know where their food is coming from. To see it growing right there, and to see [Duos owner Becky Hostetter] cooking with it, it opens people's minds."
A line begins to form around the food truck shortly before noon, as people walk from nearby workplaces to have a lunch of locally produced salads, soups, Portobello mushrooms and iced tea.
Duos Indy, which sets up for lunch at four locations around the city each week,  has seen steadily increasing traffic since starting in December.
Hostetter, who formerly operated Essential Edibles downtown, has seen a growth in the awareness of local food culture in 25 years as a restaurant owner  and chef. That awareness fuels the truck's customer base.
"Young adults today [are] very educated, food savvy, curious and participatory," Hostetter said. "It is a huge difference. The whole slow food movement is like a reclamation of why food is good, why we should be enjoying eating, why we should take the time and have pleasure."
Some of Duos Indy's food comes from the garden, which is maintained by volunteers between 4 p.m.-6 p.m. each Wednesday. Growing Places Indy also hosts educational workshops at the same time on topics ranging from soil testing to planting raised beds to beekeeping and composting.
Prior to being turned into a vegetable garden last year, the space had several lives as a floral display. The urban garden has provided an opportunity for White River State Park to fulfill one of its initial goals, which is to promote Indiana agriculture.
It also has provided an opportunity to educate students on field trips, in addition to other visitors.
"You have so many school groups. For a lot of urban children, unless they're otherwise told, they think perhaps that radishes grow in a little plastic bag," White River State Park executive director Bob Whitt said. "To be able to bring them to an actual working garden and see how things are grown, see what's involved, it's a great educational opportunity."
The plot drew attention as a flower garden, he said, but it is even more successful now.
"It's amazing how much more time people spend when they stop, backtrack and realize 'Hey, these are vegetables.' They start walking around, pointing," Whitt said. "There's much more involvement than there would be with flowers. Maybe it's because it's something we actually do consume as opposed to just admire. There's a closer relationship."
Garden advocates also focus on the closer relationship that comes from consuming locally grown produce, from the community fostered by tending a garden together to the sense of knowing where one's food is coming from.
"That's where I'm really excited to be the Wishard Slow Food Garden and to have the backing and the enthusiasm of the public health hospitals here," Henderson said. "As our shirts say, 'Grow Well, Eat Well, Live Well, Be Well.'"
Please enable JavaScript to view this content.