In the 20 minutes or so I stood chatting with Lisa Papalia-Brown in the one-room tailoring shop she shares with her mother, Enza, a string of five well-dressed men strode in with projects draped over their arms.
"My father started this business in 1957," she told me while breezily chalking the back of a customer's trousers, shortening the rise. "Who's next?" she called over my shoulder. "He taught us to fit a garment, not just sew it."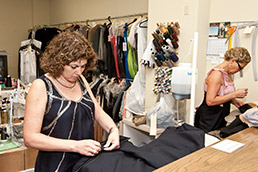 Papalia Family Tailoring has been fitting clothes for 54 years. (IBJ Photo/ Eric Learned)
Papalia Family Tailoring isn't pretty by any means. In fact, the space is a bit of a mess, with alteration projects strewn about the sewing stations that center the shop. In the corner, I could hear the familiar click-and-steam sound an industrial iron makes as Enza pressed a freshly serged seam flat as a pancake.
Tucked within the Chamber of Commerce building, one in search of tailoring services would scarcely be able to find it without a referral, which is exactly what Papalia (and most tailors worth their salt) depend on for business.
It's one of those rare surviving trades taught by apprenticeship and experience. It's a service that, when done well, is so coveted the business need not bother with advertising, a desirable location or even a sign. Any sharp-dressed man will tell you a good tailor is worth his or her weight in gold—and often just as tough to find. What follows is a treasure map to guide you to some of the city's best tailors.
Lam Son Tailor
5618 N. Keystone Ave.
255-6016
Services: alterations only
Blink, and you'll miss this one-room, one-man operation at Keystone Avenue and East 56th Street. Marked with only a tiny sign reading "Alterations," owner Bang Nguyen lurks within, bent over his humming industrial sewing machine. The Vietnamese tailor learned the craft from his uncle before moving to the United States as a refugee in 1984.
Gazing doggedly at the pile of alteration orders mounded behind him, he explains his lack of signage: "I don't need more business. I am one man, and I work long hours just to finish the business I have," he said. And yet, his client list continues to grow. It's no wonder; he hasn't raised his prices in five years.
Lee's Custom Tailoring
7002 N. Keystone Ave.
251-7002
mastertailor.com
Services: alterations, custom shirts and suits
"Reggie Miller comes in and says 'Hi.' I say 'Hi' and I just make his suit," said owner Jin Lee. The Korean master tailor speaks little English, but that hasn't stopped him from becoming the go-to suit maker for the Indianapolis Colts and the Indiana Pacers.
"Clothing is a universal language," he said.
Lee began his career at age 13 in what is now Seoul, but his shop in no way reflects his humble beginnings.
Autographed footballs and basketballs loom above plush leather couches, while Colt Ryan Diem's suit hangs off to the side, ready for a fitting. While Lee draws and prints each custom pattern in-house with his CAD software, he sends the specs to his team in Korea for production.
"I'd like to make the suits here," he said, "but I don't think I could find five tailors here to do the work."
Mina Fine Clothier
333 E. Ohio St.
631-2702
minasmenswear.com
Services: alterations within 24 hours; custom shirts, suits and tuxedoes; suit and tuxedo rentals; pick-up/drop-off
Anthony Mina learned the tailoring trade from his late father, Aldo, who started the business some 30 years ago. The small space at the corner of Ohio and Alabama streets, the shop's original location, is anchored by an enormous tri-way mirror. No doubt, the set-up is designed to reassure the customer he looks like a million bucks.
"If someone's in a pinch and they need a suit the same day, they get it," Mina said. In addition to a slew of downtown lawyers, Mina counts the last five Pacers coaches among his client pool.
Papalia Family Tailoring
320 N. Meridian St., Suite 108
972-6770
Services: alterations only, no bridal gowns
The multi-tasking capabilities of the mother-daughter team are enough to reassure any new customer his or her alteration job is in the right hands. A split second riff of the sewing machine has Enza Papalia at the end of a seam, expertly clipping stray threads while pins protrude from her concentrated frown.
Meanwhile, her daughter, Lisa, polls the clientele about the latest gossip flashing across the tiny TV screen in the corner.
"Can you believe that Casey Anthony got away with it?" she asks an attorney from the building as she pins the sides of his shirt. Every movement is precise, yet the atmosphere is laid-back, reminiscent of a mid-century barbershop. The duo does not deal in custom clothing, but the two sell ready-to-wear garments in Enza's Boutique (a separate business) across the hall.•
__________
If you'd like to share your own style ideas or know anyone who's making waves in the fashion community, contact Poshadlo at gposhadlo@ibj.com. This column appears monthly.
Please enable JavaScript to view this content.