Twenty years ago, a company name change might not involve much more than new signs, stationery and business cards.
Changing names in the digital age, on the other hand, can be a production that would overwhelm even Cecil B. DeMille. These days, such "rebranding" also entails an overhaul of a company's website along with changes to the "tweetosphere" and other social media channels.
Raidious CEO Taulbee Jackson oversaw Web content and social media.
Clarian Health's recent rebranding to Indiana University Health has been good business for at least three companies in Indianapolis' so-called measured-marketing sector: Raidious Digital Content Services, Slingshot SEO and TrendyMinds.
These specialists in various forms of digital marketing also worked in collaboration—something that might not happen in more competitive cities. Indianapolis is home to about 70 firms engaged in e-mail marketing, search engine optimization, blogging tools and the like.
The IU Health project, in fact, could wind up as a good case study for the potential for further collaborations in the fast-growing measured-marketing niche.
"We tapped into the wealth of talent Indianapolis has" in the niche, said Libby Manship, director of e-marketing at IU Health.
"The talent here in Indianapolis is just as competitive as or more so than New York, Chicago or Los Angeles," said Taulbee Jackson, CEO of Raidious.
Jackson's 2-year-old firm helps clients do a better job of using online marketing channels and measuring results. Raidious has also used new media channels to win back customers for clients, such as using Twitter to respond personally to people who are angry at a company.
So Jackson knows a thing or two about the potential for alienating customers if a company like IU Health didn't pull off a smooth conversion.
Raidious reviewed hundreds of thousands of pages of digital content to make sure it was changed to reflect the new name of the 19-hospital system.
Raidious also monitored chatter about the newly named hospital system on social media sites and analyzed the implications for every department from legal to customer service.
"Marketers need to listen as well as they talk," Jackson said.
Slingshot, meanwhile, was pulled in for its expertise on Web analytics and search engine optimization.
Indianapolis-based Slingshot makes money helping companies make sure their websites show up high on the first page on Google and other prominent search engines.
The complicated process can consist of reworking a website's architecture so that it's sure to catch the attention of search engine "spiders," which crawl about a site in search of certain keywords.
The science of search engine optimization also involves exploiting links to other websites that search engines are likely to pick up on. Screw it up and a search engine might mistake IU Health for a walk-in clinic in Muncie.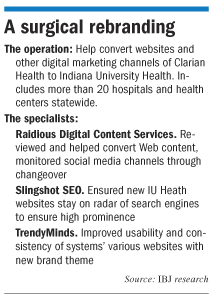 As deft as IU Heath's own e-marketing team is, it's not hard to see why the system called in outside experts to assist. The state's biggest health care system involves numerous hospitals and myriad related programs and physician groups, many with their own websites.
"We redirected more than 3,000 domains as part of this process," said IU Health's Manship.
That's not to say the first 36 hours weren't "exciting," said Slingshot's client success manager, Jeff Rothe. "The individual unnecessary redirect error messages directed by our crawler still burn in many a retina," he wrote on his blog in the midst of the changeover.
IU Health also hired TrendyMinds, an Indianapolis firm whose specialties include Web design, graphics and branding. TrendyMinds worked to ensure the various sites were consistent with IU Health's new brand theme. It also focused on navigation simplicity.
The work involved essentially deconstructing Clarian's site, better defining who its customers were, and putting everything back together accordingly. The IU Health site is less busy than the former Clarian site from a design standpoint, using big type and more white space.
It was a radically more complicated process than when TrendyMinds' CEO, Trevor Yager, started the firm in 1995. Back then, "usually what happened with the Web is, you just changed the banner head" of the renamed company.
It's unclear how much the IU Health deal was worth financially to Raidious, Slingshot or TrendyMinds—neither the firms nor IU would elaborate.
Manship considers it money well spent. She said the changeover went smoothly and Web traffic increased.
"We had the main pieces here of helping their brand do a successful relaunch. You can't have one without the others," said Rothe, of Slingshot.
Having firms based in Indianapolis capable of such a big project isn't surprising given the city's growing measured-marketing expertise, said Joshua Hall, the marketing chief at TechPoint, the region's information technology initiative.
"The idea of 'going out of town' for the kind of work Clarian needed would be as silly as leaving the state to find a good orthopedics manufacturer or health information technology exchange," Hall said, referring to two other growing industries here.•
 
Please enable JavaScript to view this content.