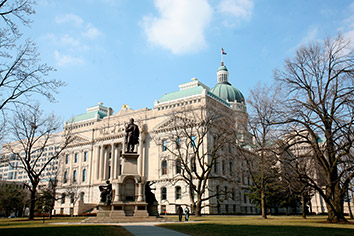 Indiana unions are rallying their members for the start of another battle like the one that led House Democrats to flee to Illinois earlier this year.
The General Assembly's Interim Committee on Employment will consider "right to work" legislation Tuesday. The measure would curb a union's ability to require workers to join its ranks.
The study committee is expected to recommend what lawmakers should do with the measure when they return to Indianapolis in January.
The Indiana State AFL-CIO and Central Indiana Jobs with Justice began lobbying union members last week to attend Tuesday's hearing at the Statehouse.
House Democrats walked out of the 2011 session earlier this year in protest of the legislation.
Please enable JavaScript to view this content.