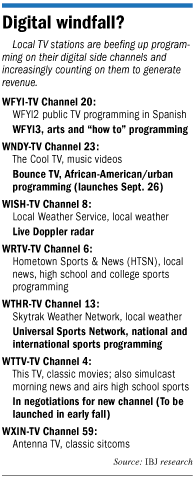 Local TV operators eager to generate new revenue are starting to invest significantly in their digital side channels and are hoping the new programming gets a boost by landing on all cable and satellite systems.
Digital technology ushered in over the last five years allows television stations to squeeze four signals into the broadcast spectrum a single analog signal occupied. The digital signal also provides a picture superior to that of its analog predecessor.
Initially, most local stations either didn't utilize the space for extra channels or filled them with re-runs from their primary station.
"There's been a shift at how we all look at these channels," said Larry Delia, general manager of WXIN-TV Channel 59 and WTTV-TV Channel 4. "We're all trying to break in new channels and trying to find a way to profit from them."
That shift has led to a renewed effort to get those locally generated digital channels on all cable and satellite systems. Locally, Comcast and Bright House Networks carry the majority of the local digital channels; AT&T U-Verse, Dish Network and DirecTV typically do not.
Comcast and Bright House officials said the decisions on which channels to carry are made on a case-by-case, market-by-market basis. U-Verse officials said they are always looking to "add new channels and content that our customers want, at a reasonable cost that's fair for them." Representatives of Dish Network and DirecTV did not return calls seeking comment.
"Eighty percent of our viewers watch through one of these providers, so it's an important issue," said Paul Montgomery, WRTV-TV Channel 6's director of programming and promotion.
Some local viewers have begun to voice displeasure over not getting the stations through their TV service.
Local broadcasters have two options. If they can invoke federal must-carry regulations, cable and satellite providers have to carry all their channels, but the local stations get nothing in return. The alternative is negotiating compensation with cable and satellite providers, something nearly all for-profit stations opt to try. But there are no guarantees.
Most deals are done on three-year cycles, and many of the local stations' agreements are due to expire.
Cardenas
"One of our deals expires at the end of this year, and the others expire next year," said WTHR-TV Channel 13 General Manager John Cardenas. "These deals are important to us because not only are these stations potentially profitable for us, they're also important for branding."
The negotiations can turn hostile. Early last year, WISH-TV Channel 8 and WNDY-TV Channel 23 evaporated from Dish Network, as the station's parent, Rhode Island-based Lin TV Corp., fought with Dish over retransmission terms. WISH and WNDY turned to the airwaves to ask its viewers who were Dish subscribers to voice their displeasure with the satellite service. After about two weeks off the air, the dispute was resolved.
Financial terms of the deal were not disclosed, but local stations often request 25 cents to 75 cents per subscriber per month. By comparison, a mega-station like ESPN gets about $4 per subscriber per month.
Advertising is still the No. 1 revenue stream for local stations, but industry experts said the money from cable systems is increasingly important as local stations invest more in new offerings.
WRTV this summer began airing local sporting events on its newly branded Hometown Sports & News channel, including live events from the Indianapolis Speedrome in July.
On Aug. 19, HTSN will air its first live high school football game, and it also has deals in place to carry football games from several area colleges. WRTV officials said they've invested just under $100,000 to broadcast the sports programming in wide-screen format.
Indiana Farm Bureau recently signed on as a presenting sponsor, and station leaders said they expect to sign several more sponsors before the football season concludes. The channel also will air high school soccer, basketball and other sports.
WISH and WNDY are making programming upgrades, too. WNDY recently began airing 24-hour music videos on its new The Cool TV, and on Sept. 26 it will launch Bounce TV featuring "African-American programming" on another of its digital channels.
Tribune Broadcasting recently launched Antenna TV featuring classic sitcoms on one of its WXIN digital channels and This TV featuring classic movies on one of its WTTV digital channels. Tribune officials plan to debut another channel on the WTTV spectrum this fall, but station officials declined to say what it would be.•
Please enable JavaScript to view this content.